Considering applying to Rice University in the near future? Maybe it's time to schedule a campus visit.
I'm currently a freshman at Rice, and just a short time ago, I was building my college list. Rice University quickly rose to the top. I was amazed by the residential college system and array of academic programs. I couldn't see myself anywhere else, especially after my campus visit.
Here are the places on campus that I recommend you visit to get a feel for what student life is like at Rice.
Navigate Through This Article:
Scheduling Your Campus Visit
First, make sure to book an appointment ahead of time to sign up for a guided tour of the campus.
While self-guided tours are always an option, tours led by Rice students provide fun bits of information, including Rice insider lingo and hot spots on campus. The student guides are also the best source to answer any questions about the university.
15 Places To Check Out on a Rice University Campus Visit
On Campus
1. Lovett Hall
Lovett Hall, the main entrance of the university, represents the beginning and end of a student's years at Rice. New students matriculate through Lovett Hall the first night of their orientation, called "O-week." Don't go in or out through the Sallyport until the day of graduation—it's rumored that your graduation will be delayed you use this entrance before the last day as a student.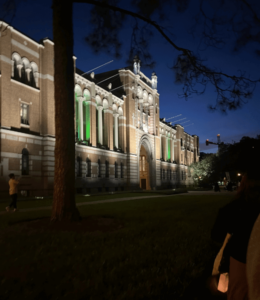 2. Rice Memorial Center, "RMC"
Located in the center of campus, the RMC is home to the Rice Student Center. It's always bustling with students studying outside in the shade, fundraising for clubs, making late-night coffee runs, and buying merch at the campus store. The RMC is a must-see spot for those wishing to experience a bit of student culture at Rice.
3. Baker College Commons
Rice University has a residential college system where students are randomly placed into one of the eleven colleges. Placement takes place the summer before matriculation. For fellow Harry Potter nerds, Baker College, the first of the residential colleges, is dubbed the college that looks the most like the iconic Hogwarts Great Hall.
As a proud resident of Baker College myself, the wooden interior and traditional banners hanging from the tall walls of the Commons provide the perfect space to study, play a round of ping pong, or dine with my fellow Bakerites.
4. Turrell Skyspace
Built by the famous American architect, James Turrell, the Skyspace sits behind the RMC and in front of Brockman Hall for Opera, which is also a great place to check out. Visit Skyspace during sunrise or sunset to see the special light show.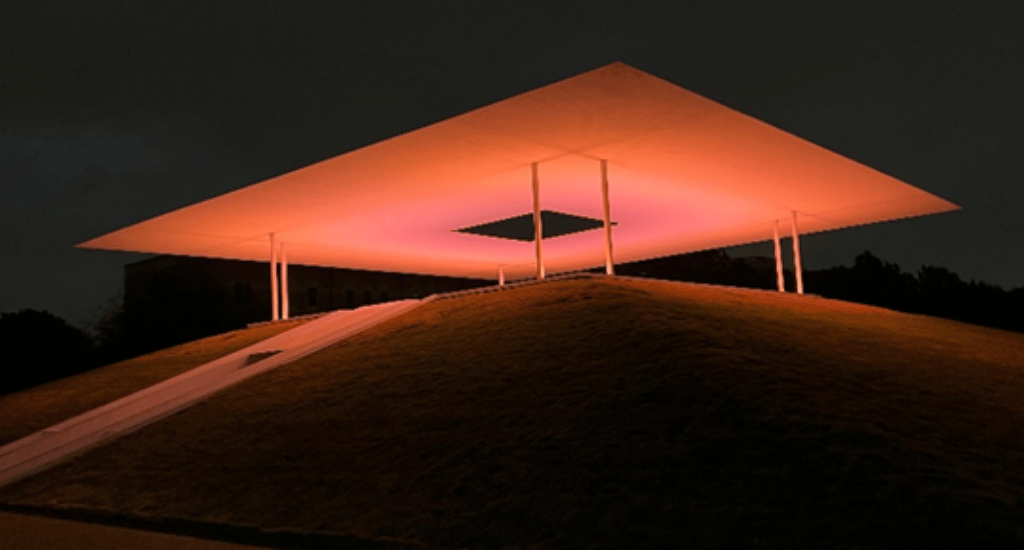 5. Fondren Library
Rice's main library, dubbed "Fondy" by students, is one of the main hubs for studying on campus. Open until the late hours of the night, students can always find a quiet space to study or librarians for help. As you go up each of the six floors, the volume of the floor decreases: the sixth is nearly pin-drop silent for students who prefer that environment to study.
6. Rice Coffeehouse, "Chaus"
Chaus is the student-run coffee shop on campus. This staple caters to students until midnight every day. Offering affordable and delicious drinks, Chaus is a great spot for students to study with friends or grab a snack on the way to class.
7. The Hoot
Only open after 8pm, the Hoot is a student-run organization in the RMC that sells food for late night studying and snacking. Selling Raising Cane's, fresh Banh-mis, and a selection of snacks, the Hoot is always teeming with students enjoying a late dinner or study break.
8. Brockstein Pavilion
Between Fondren and the RMC, Brockstein Pavilion is the second of four coffee shops on campus. One of the many study spots on campus, Brockstein's chic and modern look is a fun spot to enjoy a drink or grab lunch on your visit to Rice.
9. McNair Hall
McNair Hall is one of the newer buildings on campus and home to Rice's renowned Jones School of Business. To the right of a beautiful fountain in front of Skyspace, McNair is one of the most recognizable buildings on campus. It's a lively place—busy with graduate students, fun study spots, and the campus' third coffeehouse, Audrey's. With many outdoor spaces surrounding the building, McNair Hall is a guaranteed student favorite.
Just Off Campus
10. Rice Village
Just a short walk or campus shuttle from campus, Rice Village is the closest shopping and restaurant district for students and one of my favorite spots to visit on the weekends. Student favorites include Insomnia Cookies, Tiger Noodle House, and Dave's Hot Chicken.
11. Houston Medical Center
Houston's Medical Center is the largest in the world and definitely worth checking out. It's also a short walk from campus. The hospital provides numerous opportunities for internships and research, restaurants, and convenient places to stay off campus.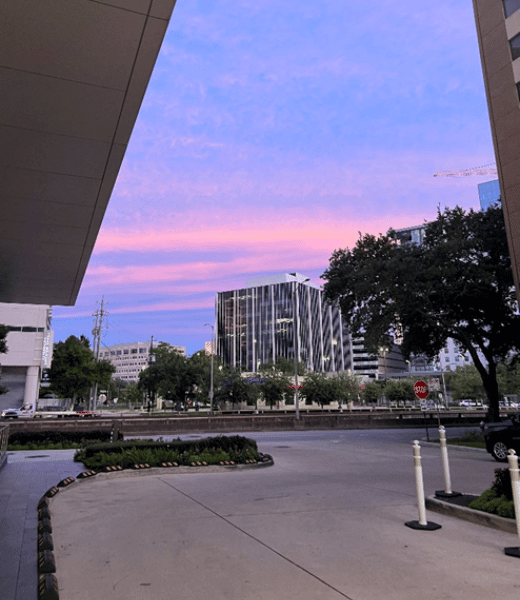 12. Herman Park
Located in the museum district just across from campus, Herman Park is a great place to relax and take a walk or jog. The park has several places to visit like the Japanese Garden and Houston Zoo, and it also has recreational activities like pedal boats and golf courses.
Off Campus
13. NASA Space Center
Have you ever heard someone say, "Houston, we have a problem"? This popular phrase was coined during the Apollo 13 mission, which was based out of Houston along with all its sister missions. Today, Houston is home to the NASA Space Center, a Smithsonian Affiliate museum that houses many iconic artifacts from the Space Age. If you are a stargazer like me, I highly recommend that you book tickets and visit this internationally famous space center while in Houston. Experience interactive exhibits and theatres to learn about NASA's programs.
14. Bodegas Taco Shop
A popular joint for students, especially over the weekends, Bodegas is a must-visit restaurant for authentic Tex-Mex food and drinks. This locally-owned restaurant is located in the heart of Houston's Museum District, so it's a great place to grab lunch while you're out sight-seeing.
15. Museum of Fine Arts, "MFA"
The Museum of Fine Arts Houston is one of the largest art museums in the country and a great place to see historic art and interactive exhibits or to capture Instagram-worthy pictures.
Next Steps
After visiting the campus, it's time to decide whether or not to add Rice to your college list! Keep in mind that Rice is a competitive college, so it's best to get a head start on preparing your college application. At KD College Prep, we offer Apply Now! Boot Camps every summer and fall to help students build their best college applications. Contact us to learn more.