We offer personalized test prep programs for the SAT® test taught by passionate and experienced instructors. Choose to attend classes live online or in person at one of our four tutoring centers located throughout Dallas-Fort Worth.
Why Take the SAT Test?
The SAT test is used for admission and scholarships by colleges across the country. The test has two sections: Math and English-Based Reading and Writing (at KD, we call it "verbal"). The test covers reading comprehension, grammar, and math concepts and is scored on a scale ranging from 400-1600.
KD College Prep offers three options for students looking for online or in-person preparation for the SAT test: test prep courses, individual tutoring, or a combination of the two. To discuss the best fit for your teen, sign up for a free consultation with our college prep experts.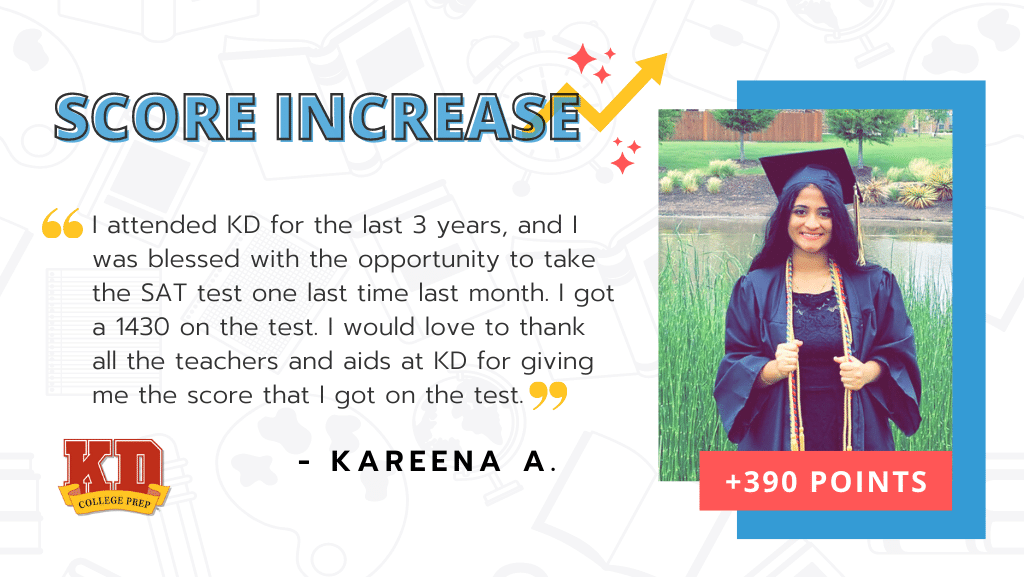 What Is a Good SAT Score?
A perfect score on the SAT test is a 1600, but you don't have to be perfect to get into your dream college. Your score goal will depend on where you want to apply to college. The average national score is about 1060. But if you want to go to a highly competitive school like Harvard, you will need a score in the 1470-1570 range. Read more about what is considered a good SAT score.
Test Prep Courses for the SAT Test
Since 1992, KD College Prep has helped students prepare for the SAT test. We offer a variety of in-person and live online test prep programs for 7th-12th grade students. KD students typically see a 100-400+ point score increase after going through our programs.
Lessons
Learn content and strategy for the SAT test in instructor-led lessons that include strategic reading, passage analysis, grammar and usage, algebra, data analysis, geometry, trigonometry, and more.  Our degreed, experienced instructors will use our proprietary curriculum to coach students to their highest possible SAT test scores.
Practice Workshops
Get extra practice, gain confidence, and work toward mastery in instructor-led workshops. Verbal and Math Workshops are offered weekly with new material introduced each Saturday.
Test-week workshops provide additional practice for the question types and pacing found on the SAT test. These sessions are presented in a "quiz-and-review" format and are offered before each national SAT test date.
Practice Tests with Instructor-Led Reviews
Maximize improvement by taking full-length practice tests and reviewing each test in an instructor-led, small-group session.
By analyzing performance and missed questions, students are able to learn from their mistakes and improve performance on future tests.
FREQUENTLY ASKED QUESTIONS
WE'RE ALWAYS READY TO CHAT
Reach out to schedule your free consultation today.