We offer personalized test prep programs for the PSAT test taught by passionate and experienced instructors. Choose to attend classes in person at our four tutoring centers located throughout Dallas-Fort Worth or live online across the country.
What Is the PSAT Test?
The 11th grade PSAT/NMSQT® test is the qualifying test for the National Merit® Scholarship Program. Many colleges reward National Merit Semifinalists and other recognized students with scholarship money, which is a great way to help pay for college.
Many high schools offer the PSAT test to students in 9th and 10th grades. This serves as a practice test for students and a starting point for their test preparation. Only the 11th grade test is used to qualify for National Merit programs. This test is not used for college admissions.
What Is a Good PSAT Score?
A perfect score on the PSAT test is a 1520. You don't have to earn a perfect score to earn National Merit recognition, but you will need to score in the top ½ percent of 11th graders in your state. Whether you plan to take the PSAT test to become a National Merit Semifinalist or as practice for the SAT® test, your target score will depend on your personal goals.
The top 1% of test scores typically fall in the 1370-1520 range, while an average score is in the 960-1070 range. Learn more about what is considered a good PSAT score.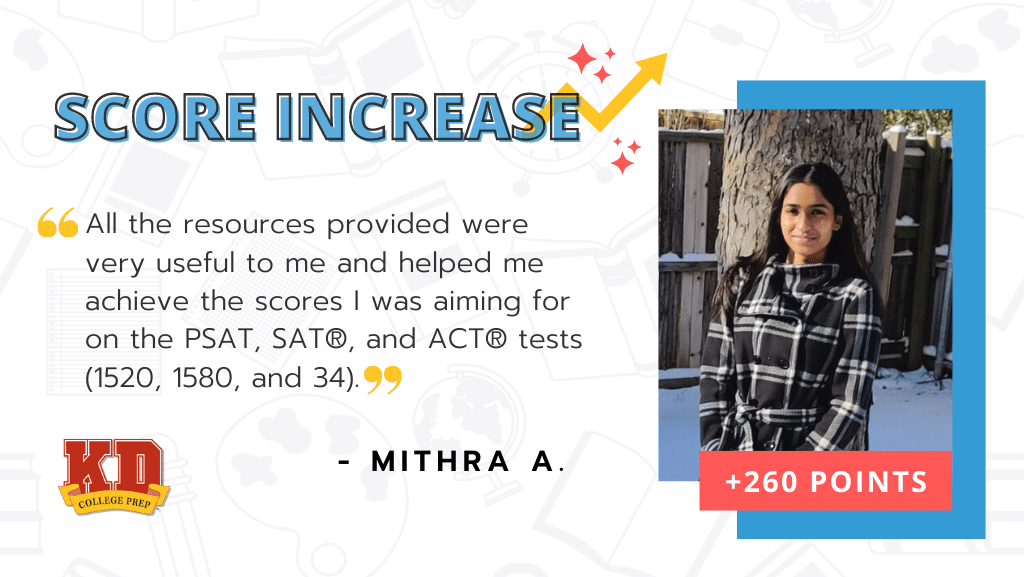 How Can My Student Prepare for the PSAT Test?
KD College Prep offers several options for students looking to prepare for the PSAT test: test prep courses, one-on-one tutoring, or a combination of the two. To find the best fit for your teen, sign up for a free consultation with our college prep advisors.
Lessons
Learn content and strategy for the PSAT test in instructor-led lessons for strategic reading, passage analysis, grammar and usage, algebra, data analysis, and more. Our experienced instructors use our proprietary curriculum to coach students to their highest possible PSAT scores.
Practice Workshops
Get extra practice, gain confidence, and work toward mastery in instructor-led practice workshops. Verbal and Math Workshops are offered several times weekly with new material introduced each Saturday.
Our Complete Program for testing includes workshops at no additional cost.
Practice Tests with Instructor-Led Reviews
Maximize improvement by taking full-length practice tests and reviewing each test in an instructor-led session.
By analyzing performance and missed questions, students learn from their mistakes and improve performance on future tests.
FREQUENTLY ASKED QUESTIONS
WE'RE ALWAYS READY TO CHAT
Reach out to schedule your free consultation today.