We offer personalized test prep programs for the ACT® test taught by passionate and experienced instructors. Choose to attend classes in person at one of our four tutoring centers located throughout Dallas-Fort Worth or live online across the country.
Why Take the ACT Test?
The ACT test is used for admission and scholarships decisions by colleges around the country. The test has English, Math, Reading, and Science sections, along with an optional essay. The test is scored from 1-36. Students should generally begin taking the ACT test in the winter and spring of 11th grade.
KD College Prep offers three options for students looking for online or in-person preparation for the ACT test: test prep courses, one-on-one tutoring, or a combination of the two. To find the best fit for your teen, sign up for a free consultation with our college prep experts.
What Is a Good ACT Score?
A perfect score on the ACT test is a 36 composite score, but you don't have to be perfect to get into your dream college. Your score goal will depend on where you want to apply to college. The national average composite score is about 21. But if you want to go to a highly competitive school like Harvard, you will need a score in the 33-35 range. Read more about what is considered a good ACT score.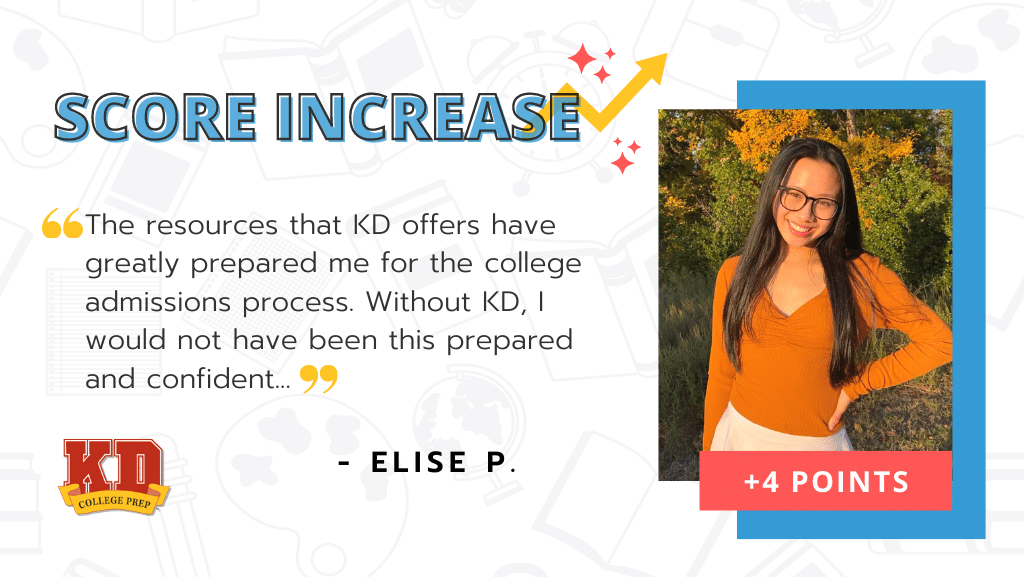 Test Prep Courses for the ACT Test
Since 1992, KD College Prep has helped students prepare for the ACT test. We offer a variety of in-person and live online test prep programs for 7th-12th grade students.
Lessons
Core Lessons
The journey to mastering the ACT test begins with the instructor-led 14 core lessons, which include strategic reading, passage analysis, grammar and usage, algebra, data analysis, geometry, trigonometry, and more. These lessons cover approximately 80% of the content found on the ACT test. Our degreed, experienced instructors will use our proprietary curriculum to coach students to their highest possible ACT scores.
Intro Lessons
Students in 9th grade have access to on-demand Intro Lessons (English/Reading and Math/Science). These two lessons build upon the core lessons by introducing the basic content and format of the ACT test.
Bonus Lessons
As they progress through the program, 10th-12th grade students also attend two sets of six additional lessons (English, Math A, Math B, Reading, Science A, and Science B), all of which provide in-depth instruction for the unique content found on the ACT test.
Ongoing Practice
Practice Workshops
Get extra practice, gain confidence, and work toward mastery in instructor-led workshops. Verbal and Math Workshops are offered weekly with new material introduced each Saturday. We recommend four hours of practice workshops per month.
Bonus Workshops
Bonus Workshops specifically formatted for the ACT Test are scheduled at critical times of the year when students have greater availability or a greater need for practice. These workshops provide additional practice for the question types and pacing found on the ACT test. These sessions are in a "quiz-and-review" format and are offered before each national ACT test date and during spring break holidays.
Note: Students do not have to complete the Bonus Lessons for the ACT test before attending the Bonus Workshops.
Practice Tests with Instructor-Led Reviews
Maximize improvement by taking full-length practice tests and reviewing each test in an instructor-led, small-group session.
By analyzing performance and missed questions, students are able to learn from their mistakes and improve performance on future tests.
FREQUENTLY ASKED QUESTIONS
WE'RE ALWAYS READY TO CHAT
Reach out to schedule your free consultation today.