The KD College Prep college counseling team offers several different levels of college admissions essay help. Our college essay tutoring services range from helping students brainstorm essay topics to providing honest feedback on essay quality to reviewing and editing personal statements and supplemental essays for clarity and grammar.
We offer three different college counseling services that can include college essay tutoring and editing. Students can choose to attend Apply Now! Boot Camps in small groups or get one-on-one assistance with their admissions essays from a member of our team through the Pinnacle Program or Select Sessions.
Boot camps are offered live online or in person at one of our four campuses located throughout the Dallas-Fort Worth area. KD's Pinnacle Program and Select Sessions are conducted via an online platform such as Zoom or Microsoft Teams for college counseling students across the country.
Why Do Students Need Essay Help?
Most colleges and universities require college essays as part of their standard admissions process. Depending on how many colleges are on a student's list, he or she may be looking at dozens of essays that must be completed during the application season, which typically runs from the July before a student's senior year through November/December.
With thousands of essays being submitted every year to admissions officers, it's essential for motivated students to find a way to make their essays stand out.
Why Are College Essays Important?
College admissions essays are one of the best ways for students to tell schools more about themselves in their own voice. And often, essays can not only showcase things about a student that might not be clear from a transcript. They can also give admissions officers an idea about how well the student might fit in at their university.
College Admissions Essay Help
Since 1992, KD College Prep has helped students and their families navigate the college admissions process. We offer three college counseling programs: Apply Now! Boot Camps, the Pinnacle Program, and Select Sessions.
Our students have earned acceptances into every Ivy League school (Brown, Columbia, Cornell, Dartmouth, Harvard, Yale, University of Pennsylvania, and Princeton), Emory, NYU, Duke, Georgetown, UCLA, UC-Berkeley, Carnegie-Mellon, Stanford, Johns Hopkins, University of Arizona Honors College, University of Chicago, Caltech, Michigan, Georgia Tech, SMU, MIT, Vanderbilt, Rice, Davidson, St. John's, Trinity, the University of Notre Dame, Bowdoin, Texas A&M, University of Texas Engineering Honors, and many more.
Schedule a free consultation with a member of our college counseling team to find out how we can help your student with admissions essays.
Apply Now! Boot Camps
APPLY NOW! Boot Camps are a great way for 12th graders to get a head start on college applications and essays. These fast-paced small group events (offered in-person at one of our four Dallas-Fort Worth campuses or live online) are typically held several times each year during the summer and early fall.
During the 10-hour (4 days, 2.5 hours per day) APPLY NOW! Boot Camp, students will be guided through the following:
The development of a college essay/personal statement to be used or adapted for college admissions
The Common Application®

Creating an edited personal resume and activity list to be used with college applications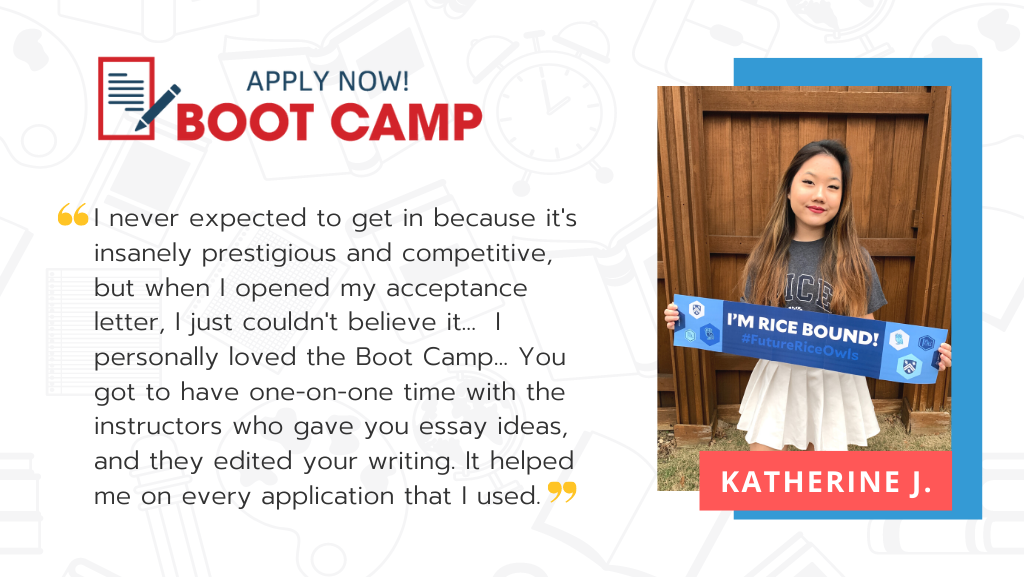 Select Sessions for Essay Help
Focus on specific areas of the college admissions process and pay by the hour for just the help you need with Select Sessions. Senior college counselors and/or members of the college counseling and essay editing team work with students on a variety of areas including: essay development, revision, and/or editing. The time required varies according to the essay(s) and the student's goals. Pricing will depend on the counselor's level of experience and the needs of the student.
Pinnacle Program
The Pinnacle™ Program is "concierge-style," one-on-one counseling designed for students and their families who require an expert to guide them through the entire college admissions process from start to finish.
Based on a student's goals, our team creates a plan designed to lead to best-fit colleges. Students meet regularly with a senior counselor to get insight, feedback, and encouragement throughout the journey.
This program includes a certain number of hours of meeting with a senior counselor to apply to up to ten colleges. Counselors also spend time reviewing essays and application materials, corresponding with students and parents via email, and guiding students through the research process. If a student needs additional time or wants to apply to more colleges, our team can provide pricing options.
The program's cost also includes final essay review by our editing team, access to our online college research and planning platform, and an aptitude assessment. 
IMPORTANT NOTE: The PINNACLE Program for the classes of 2024 and 2025 are now closed. No new students will be accepted at this time.
FREQUENTLY ASKED QUESTIONS
WE'RE ALWAYS READY TO CHAT
Reach out to schedule your free consultation today.