So you're thinking about becoming a Longhorn? A campus visit should be your next step.
For advice on things to do on a University of Texas at Austin (UT-Austin) campus visit, we turned to the President of KD College Prep, David Dillard, UT '78, and Thomas Dang, current freshman at UT and former KD student. They each shared their favorite places on campus and insight on what makes each site an authentic piece of the UT-Austin experience.
Scheduling Your Visit
First things first—you need to schedule your UT-Austin campus visit.
A guided tour for prospective students gives families a chance to see various aspects of campus, ranging from campus hangout spots to classrooms to dormitories. Tours are usually led by current college students who can answer your specific questions about the school and tell you what to expect.
Remember to have fun, and don't forget to look for these 5 Hidden Things to Spot on a College Visit.
On Campus
UT-Austin offers a lot to do without ever leaving campus. You can spend hours exploring the campus' variety of museums, landmarks, shops, and restaurants. Try to dedicate a full day to your tour in order to see all that the campus has to offer.
1. The UT Tower
History, Culture, Insta-worthy
The UT Tower, aka the Main Building, is hard to miss. The 307-foot-tall landmark can be seen from virtually anywhere on campus and is one of the most recognizable symbols of the university. At night, the tower is lit up to honor special occasions, such as a UT sports victory.
"During the first week of school, they light up the windows with the freshmen class' graduation year. And then they'll do the same thing when you graduate," said Dang.
One hidden gem within the tower is the Life Sciences Library. It's the original library on campus, and it has a Harry Potter vibe. Dang says it's a great place to take photos for Instagram.
"Of course, you'll have to stand on the front steps of the Tower to get your photo taken in front of the words inscribed there," Dang said. " …It's one of the more Instagram-worthy spots on campus."
During "Tower Tours," visitors can view the campus from the Observation Deck, located at the top of the Tower. You may even catch a glimpse of Tower Girl, the building's resident peregrine falcon.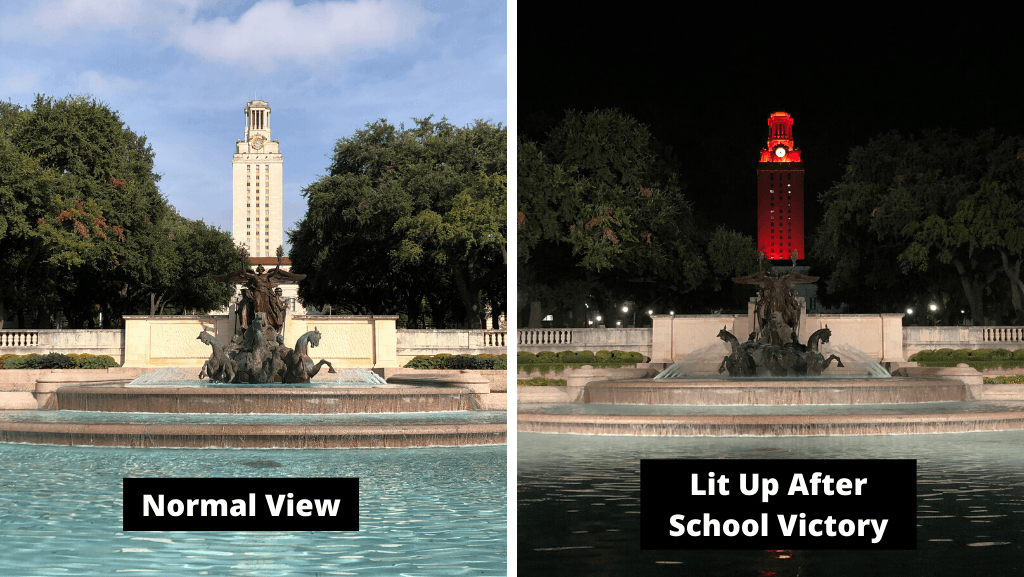 2. Harry Ransom Center
Art, History
The Ransom Center is home to UT-Austin's vast archive of manuscripts, rare books, art, film and more. The library houses famous pieces such as the Gutenberg Bible, Edgar Allen Poe's desk, Albert Einstein's unpublished notes, and original works by Frida Kahlo, to name a few.
Visitors can take a look at these rare items in the Reading and Viewing Room. If you're interested in getting up close to these rare and historical materials, view the guidelines here.
3. Littlefield Home
History
The Littlefield Home is a Victorian house located north of the UT Tower. This historic building was home to Civil War veteran George Littlefield and his wife Alice, who reportedly still haunts the building. The two made significant contributions to UT-Austin in its early years, providing funds for the Main Building, the Littlefield Fountain, and the Littlefield Dormitory.
4. Little Campus
History
The Little Campus was built in 1857 and is home to some of the oldest buildings on UT-Austin's campus. The facility predates the university by nearly 30 years.
Over time, this area has served as the Texas Asylum for the Blind, General George Armstrong Custer's family residence, a barracks for World War I & II, the Texas Hospital for the Senile, and a men's dormitory.
5. Blanton Museum of Art
Art, Coffee, Insta-worthy
If you like art, the Blanton Museum has it all. With a collection that ranges from ancient Greek pottery to digital comics, you're bound to find something that piques your interest. You can also grab coffee or a sandwich at the museum's cafe.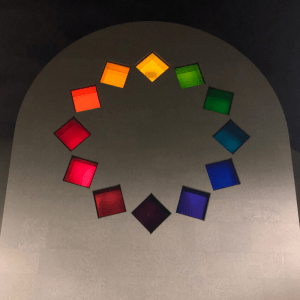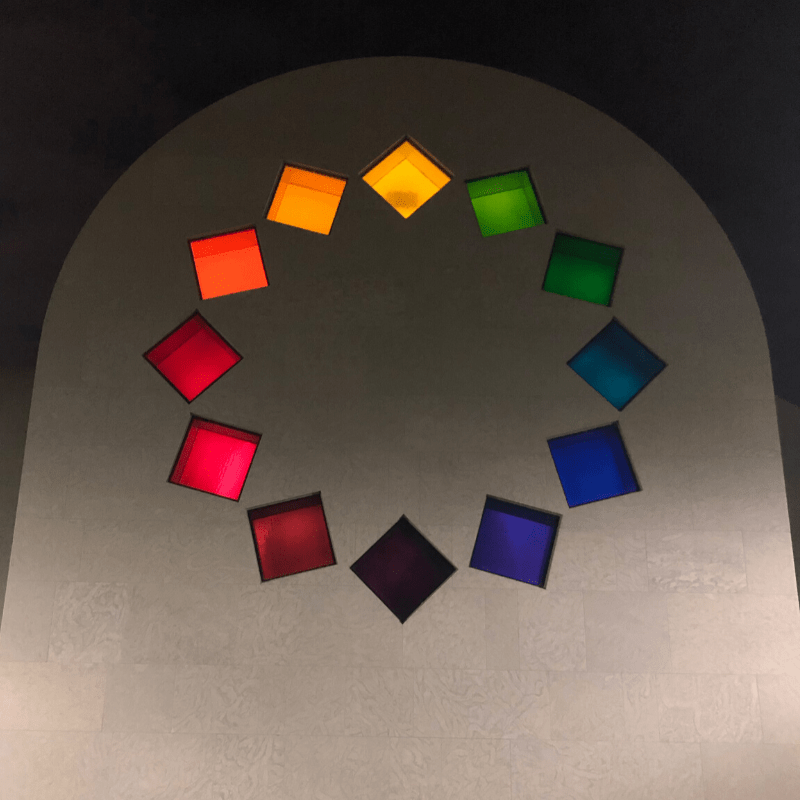 6. The Drag
Coffee, Food, Shops, Culture, Insta-worthy
UT-Austin has its own shopping and arts district on the edge of campus. Here, you can take Instagram pics next to murals, grab coffee at Lucky Lab Coffee Co. or Caffe Medici, pick up Longhorn merch at the University Co-op, or get queso at the Kerbey Lane Cafe—open 24/7.
"The Drag is the hub where students go after classes. It's the ideal hang-out spot," Dang said.
7. The Skyspace
Art, Insta-worthy
UT-Austin is home to one of Texas' three Skyspace exhibits by artist James Turrell. "The Color Inside" is open to the public. Visit during sunrise and sunset to see color fill the space for about an hour.
"Sitting in this room will make you think about how we see things and how we think about color," Dang said.
Off Campus
8. Scholz Garten
History, Food, Culture
Scholz Garten is a 150-year-old German restaurant and bar. A mix of college students and congressmen frequent this location, creating a unique atmosphere.
9. Dirty Martins
History, Food, Culture
Want to grab a burger near campus? Try Dirty Martin's (also known as Dirty's). This old-school burger joint has fed college students for nearly 100 years.
10. Broken Spoke
History, Food, Dancing
After a long day walking around campus, you're probably ready to kick off your shoes and get a little Footloose. Luckily, Austin has its very own Honky Tonk bar where you can learn how to two-step or catch a country music legend in the making. Check the calendar to see if there are any interesting events happening while you're in town.
11. Home Slice Pizza
Food, Culture
Home Slice Pizza is one of the more student-friendly restaurants in Austin. It has a hipster vibe, and you can snag dinner for under $20. They have two locations and also offer delivery.
12. Ladybird Lake
Recreation
While in Austin, you can choose from a wide range of parks, trails, and recreational activities. For those who love the outdoors, we recommend renting a paddle board or kayak at Ladybird Lake. You'll fall in love with the breath-taking views of downtown Austin from the shoreside.
"There's this really awesome trail. If you go in the morning, the water shimmers, and over the lake you can see the Austin skyline," Dang said.
13. Zilker Park
Recreation, Insta-worthy
This 351-acre park is most well-known as the location for Austin City Limits Music Festival that occurs every October. Dang says that if you're going to live in Austin, you have to check it out.
Barton Springs
Within Zilker Park, you'll find this pool fed by an underground spring that keeps the water cool year-round. The pool itself has a lot of history and is home to Barton Springs Salamander, an endangered species.
"The water is very, very cold so a lot of people go here to swim. It's really nice in the summer or fall," Dang said.
14. South Congress Bridge
Recreation, Insta-worthy
Large groups of locals and tourists gather at South Congress Bridge from around 7:30 to 8:30 pm to watch thousands of bats take flight. From March to November, these Mexican free-tailed bats congregate under the bridge. They fly out at night and feed on moths, mosquitoes, crickets, and other small insects.
15. Mount Bonnel
Recreation, Insta-worthy
For an even better view of the city, we recommend taking the short trek up Mt. Bonnell. The paved trail is 0.3 miles long and will bring you the highest point in Austin.
"Once you hike up the trail, you have this wonderful view. If you go in the evening you can even see the sunset," Dang said.
So, what's next?
As you can see, there's plenty to do on and off campus. After you've visited the college, it's time to decide whether or not you want to apply. We offer college counseling services to help guide you through the college admissions process. Contact a campus near you to learn more.