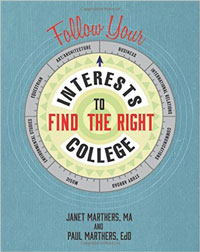 Can you study engineering at a liberal arts college and if so, is it a good idea? Which colleges have strong ROTC programs? Which private universities offer top-ranked business schools? Are there colleges with strong programs for students with learning differences?
It's not often that I read a college guide cover-to-cover, but I did just that with Follow Your Interests to Find the Right College by Janet Marthers, MA, and Paul Marthers, EdD. It is the most comprehensive, well-researched guide. Seasoned college admissions professionals would find it to be a helpful resource. For parents of high school students, the book provides plenty of fodder for discussion about colleges and careers.
The book is organized into sections:
Part I – Types of Colleges
Learn the differences between liberal arts colleges, public universities, Ivy League schools, tech schools, and even service academies. The book profiles a number of colleges specifically and also offers insight into the admissions process and experience at each type of school.
Get information about colleges organized around gender, ethnicity, or race; Canadian universities; colleges around the world; and religiously-oriented colleges.
Part II- Areas of Study
This area details the top colleges for interest areas including business, environmental programs, international studies, writing, music, theater, art, architecture, and health professions.
Even students interested in specialized programs such as video game design, aviation, and fashion merchandising will find helpful information. The book also dedicates 15 pages to equine and riding programs!
Appendixes
Special cases, transfers, financial aid, scholarships, and more are covered at the end of the book. Although the financial aspect of college is covered broadly, it is not the focus. If you are looking for a scholarship guide or financial aid workbook, this is not the book for you.
If you are interested in exploring possible majors, learning more about colleges, and discovering programs you never knew existed, this book will delight you. It is a must-have resource for college counselors and a great tool for high school students and their parents.