College admissions is an exciting but challenging process, and there is no better time than now to start planning and preparing.
By planning ahead, you can make sure that your academic and personal profiles are in line with the colleges in which you are interested. If you notice anything lacking or missing, there is still time to make adjustments and changes as you move forward.
This can include adding more volunteer hours over the summer, joining an interest club at school, or continuing to test to reach maximum scores on your SAT® and ACT® tests. We recommend that you research the colleges that you are interested in and review your academic and personal profile during the spring of junior year.
We want to make sure that your college application reflects the best version of yourself. Use the college planning checklist below to collect all materials needed to create a strong college application.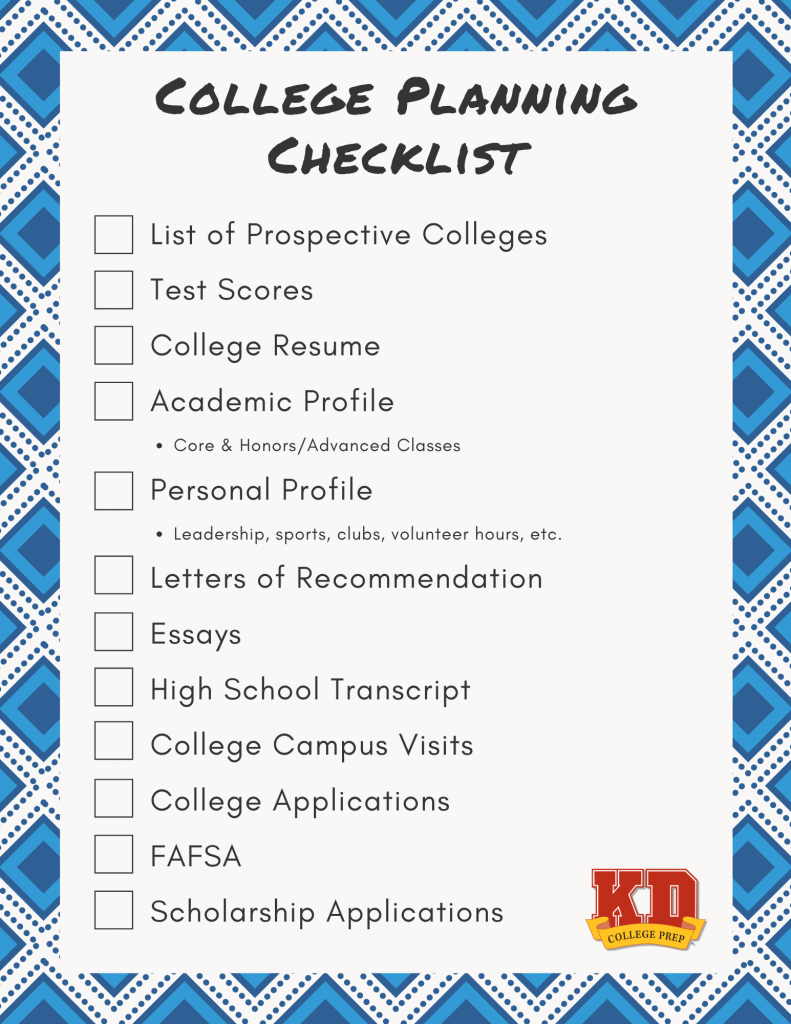 When should I decide where to apply to college?
By the end of your junior year, ideally you'll want to have a finalized list of where you'd like to apply to college. As a result, you'll be able to start on your college applications the summer before senior year of high school.
There is no perfect equation for building the ideal college list, but it is important to apply to schools that will be a good fit for you. Check out our "How to Apply to the Right Colleges" post for tips on how to create a balanced college list.
When should I finish testing?
We recommend that you aim to finish testing during your 11th grade year so that you can focus on college applications in 12th grade.
If not finished testing in the 11th grade, you need to have a testing timeline in place to make sure you can test and submit scores accordingly per your college list. We offer test prep programs to help you achieve your test score goals in time for college admission.
You should be aware of the application deadlines for each of your choice schools. For the colleges with submissions in December, you should plan to finish testing by August or October of 12th grade year at the very latest.
When should I start thinking about college application materials?
You should start collecting application materials during your junior year of high school.
Letters of Recommendation
Letters of recommendation should be written by 11th grade core class teachers.
Ideally, you want to ask for letters of recommendation in the beginning of spring in 11th grade. Keep in mind that teachers tend to get a lot of requests for letters of recommendation, and sometimes they put a cap on the number of letters they're willing to write. Don't miss out on an awesome letter of recommendation because you asked too late. Instead, ask early and get ahead of your classmates. When better to ask them to write that letter than right before they have a few months off in the summer?
College Resume
Build a rough draft of your college resume and academic and personal profiles during the 11th grade.
If there are areas on your resume that lack substance, there is still time to work on volunteer hours and extracurriculars.
College Essays
The college essay is the most challenging aspect of the application process, and it will go through multiple revisions and edits before it is close to being ready.
Many of the essay prompts do not change from year to year, so you can start considering prompts and brainstorming starting as soon as April.
For helpful tips for choosing the best college essay prompts, check out "How to Choose a College Essay Topic."
We also offer the APPLY NOW! Boot Camp to help students tackle college essays and additional college application items. These events are group sessions where students work on two edited college essays, two college applications, and an edited person resume.
This session will help you tackle those elusively broad topics by focusing your energy in concentrated blocks of time. Our college counseling team provides suggestions and feedback on your ideas and writing. We are also available to answer specific questions related to your application materials.
There is a sparkle in the eye when a student finds a topic or story he or she is passionate about sharing, and we help that student develop the idea into a fantastic narrative that provides insight into his or her life.
When do college applications open for fall 2021?
College applications usually open in the summer before senior year of high school. The earliest deadlines we see are usually in September or October 2020.
Most schools will let students apply up until June or July 2021. However, admittance for later deadlines tends to be far less than the early or regular admission deadlines. Plan in advance to maximize your chances of admissions, scholarships, housing, and financial aid.
We recommend that students be ready to submit their application as early as September of 2021.
Students should plan to create their college application accounts in July/August 2020. This will serve as a "bucket" for all the components of their application until they are ready to submit the final application prior to the college's submission deadline.
Do not wait until the final deadline date. Submitting your application at 11:59 pm the day of the deadline will make you look bad. Colleges want to accept highly qualified, well-rounded students. Not procrastinators.
When should I schedule a college visit?
Spring of the 11th grade year is a great time to start visiting those colleges that you've researched and are interested in pursuing. It is always a good idea to see a college campus when determining if it is a good fit.
Schedule visits through the college's website, and plan to attend any welcome activities and information sessions they have to offer, in addition to the tour. Keep in mind that tours at highly competitive colleges tend to fill up weeks in advance.
While you may not be able to visit every campus to which you intend to apply, it is important to see as many as possible.
When should I apply for financial aid or scholarships?
Financial Aid:
The financial aid application, FAFSA, will open October 1st. Parents will need to use their tax returns from the previous year to fill out the application. Be sure to avoid these common mistakes on the application.
Scholarships:
Research the colleges on your list to determine how to apply for scholarships. For some schools, your college application is your scholarship application. For others, you may have to complete an additional form.
Students and parents should also reach out to their high school counselors for opportunities available through the school district and apply as early as possible. There may also be private scholarships available through the community, so do your research!
College websites can offer more insight into private scholarships and deadlines specific to financial aid. The college websites will continue to be a resource throughout the application process as each college is different. Remember to go straight to the source for the most up-to-date information!
Need help planning for college applications?
Applying for college can be a daunting task. That's why we offer a wide range of college counseling activities to help students put their best foot forward when applying for college. Contact a campus near you to learn more.