Bailey is a former KD student who now attends Harvard University. She is a member of our Perfect Score Hall of Fame, earning a perfect 36 on the ACT® test back in high school. She studies economics and hopes to pursue a career in investment banking after graduation. When Bailey's not hitting the books, she is cheering on her classmates as co-captain of the Harvard cheerleading team.
Getting into Harvard was no small feat, and Bailey is always open to sharing how she got there with younger KD students who have similar goals. Many may believe that getting into the nation's most competitive college is a lofty goal, but Bailey never let the opinions of others prevent her from pursuing her dream.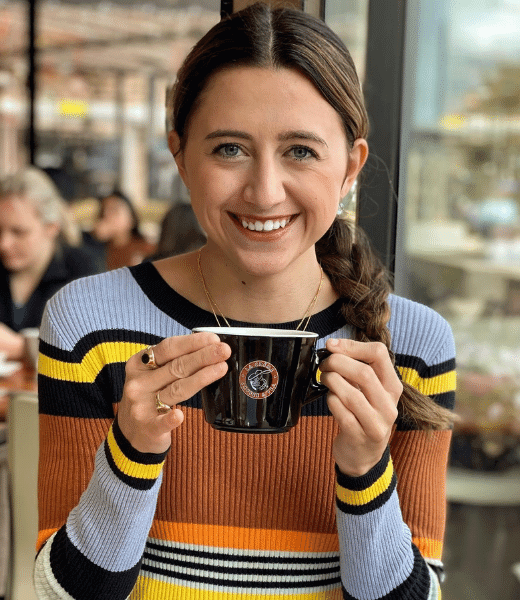 "There may be an opportunity or goal that seems impossible to achieve, but you never know. It can never hurt to throw your hat in the ring for an opportunity. Be an advocate for yourself and don't downplay your accomplishments," Bailey says.
Of course, Bailey knew that it would take many years of hard work and commitment to stand out in the college admissions process. Now, she's taking some of those same things she learned in the college application process to her internship and job interviews. Read on to learn more about Bailey, her journey to Harvard, and where she plans to head after earning her degree.
Looking Back at High School
Bailey was born and raised in Dallas, and she attended The Hockaday School, an all-girls private school that serves students ages pre-K through 12th grade. During high school, she was involved in a variety of extracurriculars, ranging from diving and fencing to Model UN.
"I had so many different things that I was interested in. I think that I was really drawn to the idea of being involved in as many groups as possible to open up the door to as many friendships as possible," Bailey says.
Another interest that Bailey has had throughout her life is gymnastics. She's been a gymnast since she was about four years old. She still takes classes to keep her "cheer skills sharp," and over the years she has coached some of the younger girls at her gym.
Bailey spent time outside of school attending test prep classes at KD College Prep's Plano campus. One of the things she remembers the most about attending KD is a math teacher that helped her learn the content and strategies necessary to earn her score goal.
"I had a favorite KD math teacher named Andrew, and I really enjoyed the way he ran his workshops. I enjoyed his teaching so much that I took one of his workshops on my birthday! I thought about taking that day off from prep, but I knew that I'd learn something important from him and have fun too," she says
Now, Bailey looks back on that time spent preparing for her admissions tests and is thankful that her teenage self had the determination to keep working toward her goals. She includes her perfect score on her job resume, and it's become a talking point during some of her interviews. She is confident that score had an impact on her acceptance to Harvard.
The Gap Year Abroad
Before attending Harvard, Bailey spent a gap year in England as a member of a theater troupe and performing for audiences throughout Stratford, UK, (Shakespeare's birthplace). She spent the year acting, writing, and directing—the only American in the small group of student actors. Many of the program's alumni have gone on to professional careers in acting, and one alum even starred in Netflix's Bridgerton.
While Bailey does not consider herself an aspiring actor, she thought the opportunity would help her better navigate the difficult and stressful transition into college and equip her to thrive socially as well as navigate new environments and challenges. She found out about the opportunity through EnRoute Consulting, an organization that specializes in helping students find high-quality gap year opportunities.
"I didn't get to do as much theater as I wanted to in high school because I was spending a lot of time in athletics. When I was looking at gap year ideas, I decided to do something in theater… I got to engage the artistic side of my brain, which was something that wasn't really a part of my high school experience," she says.
As a high-achieving student, Bailey needed time in between high school and college to explore the world and get to know herself. It's important to note here that a gap year is best spent engaged in something that colleges will find intriguing. If you take the year off, they want to know that you're doing something meaningful during that time away from your studies.
"It made my transition to college so much smoother… I would absolutely recommend it as a very important option to consider," Bailey says.
The Harvard "Mosaic of Experiences"
At Harvard, most students reside on campus for all four years of college. After freshman year, the college divides students into 12 separate residential houses, a tradition that gives students a "house away from home." Each house consists of about 150 students, and this system fosters a tight-knit community in which students can thrive and build stronger relationships. To Bailey, the experiences outside of class—getting involved, meeting people, and hearing their stories—have been the best parts of attending Harvard.
"You get to sit down at a table in the dining hall and hear people talk about experiences from all over the world—how they grew up and their different family structures. You can really see the diversity, and that mosaic of experiences comes together in every class."
Bailey has found a home at Harvard. Aside from cheerleading, she is a member of Alpha Phi, an all-women's Greek organization on campus. She's always been an achiever with big goals for herself, and in her younger years that sometimes made her feel like an outsider. Now, she's surrounded by incredible classmates that can match her drive.
"I never felt like I was a normal kid, but there's nothing wrong with that. In middle and high school, I often felt like I stood out, but I grew to realize that blending in should never be the goal," Bailey says. "…Nothing could have prepared me for being in an environment where people have such incredibly diverse experiences but are all connected by an innate motivation to better ourselves and deep intellectual curiosity," Bailey says.
Bailey originally thought she would pursue a degree in biology, but after taking an economics class to knock out a general education requirement, she discovered a new interest. As she took more classes, that interest grew and she developed strong relationships with the professors in that department. Then the pandemic hit, and she saw a connection between what was happening and what she learned about in class.
"I really like the real-world application of economic classes, especially with the events occurring in the world… When COVID hit, a lot of our economics classes started to morph to include a curriculum that discussed the pandemic and the effect on the economy, and I had never experienced a situation in which content from class was directly reacting to real-time social and political activity."
Investing in the Future
This summer, Bailey moved to the Washington D.C. area to intern for KippsDeSanto, a middle-market investment bank recently acquired by Capital One. She works alongside four other interns to assist with merger and acquisition transactions between companies servicing the aerospace and defense and government technology solutions industries. This position is her first experience in investment banking, and she's interested in pursuing more opportunities in this field after graduation.
The company culture at KippsDeSanto is something that Bailey has admired. Through the support she's received as an intern, the company has treated Bailey as a valued member of the team, which can be hard to find in the cutthroat world of investment banking.
"It feels like a good first step in getting my feet wet in this industry… It worked out very nicely because the firm that I'm at now is a little bit smaller rather than being a huge, well-known banking investment firm where I might be one of many interns. They really are trying to create a community, and that's something I really resonated with places like school and KD. There was an effort beyond that to create somewhat of a family, and I always gravitate towards environments like that," Bailey says.
After finishing her internship this summer, Bailey looks forward to visiting England for the first time since her gap year tour three years ago. Then she'll head off to Harvard in the fall for her senior year and enter the job market soon after.
"I'm definitely continuing to invest in myself and my work and am excited to take all the skills that I've learned from KD, my gap year, my Harvard experience thus far, and my summer internship and apply them as I progress through my college and professional career," Bailey says.