A few hours before Stanford University's decisions are supposed to arrive, Blaine's dad gives her a call.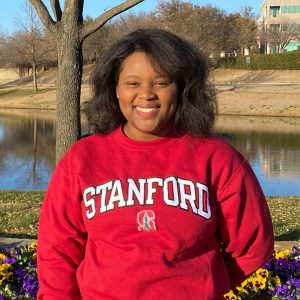 He says, "You know, whether you get in or not, we're still going to celebrate. You worked hard over the past few years, and regardless of whether or not you get in, your worth is not determined by that. Either way, you won."
Blaine is a senior at the Science and Engineering Magnet School-Townview. Since the 7th grade, she's prepared for this moment. She's spent countless hours attending test prep classes, taking practice tests, and perfecting her personal statement. She's stayed focused on her grades, involved in her extracurriculars, and dedicated to pursuing her dreams. And all that hard work and determination have boiled down to this moment.
It's 6:00 p.m., and her parents are not home yet. Blaine knows the decision letter is there waiting, but she wants to share this moment with her parents. After all, they are the reason she's come this far. She picks up the phone and tells them to hurry home.
Five minutes later, her parents are beside her, and she's ready to find out if all her hard work has paid off. She clicks on the application status update, and confetti bursts across her screen.
"I didn't read anything else. I was crying. My mom was screaming, and my dad was fist pumping the air. That lasted for a good two to three minutes. It was a great feeling," Blaine says.
Jill of All Trades
As a freshman in high school, Blaine became aware of the gender disparity in Science, Technology, Engineering, and Math (STEM), and over the years she's built a deep bond with the other girls in her classes.
"Growing up in a society where you see STEM becoming increasingly important, it was kind of hard to grasp this gender imbalance," Blaine says.
As a sophomore, Blaine decided to start R.O.C.K.E.T.S., a nonprofit that creates lesson plans to introduce younger students to topics in STEM fields. Its mission is to empower female and minority students to pursue education and careers in STEM.
Robotics and debate have become a prominent part of Blaine's high school experience. Being involved in extracurriculars on different ends of the spectrum has helped her grow as a person and taught her how to explore her interests.
"I feel like there's this stigma where a lot of kids believe that you have to be really good at just one thing. I wouldn't say that I'm only good at debate or only good at robotics. I think I'm pretty good at a lot of things, and to me that's more useful," Blaine says.
The College Prep Journey
Blaine first started attending test prep activities at KD College Prep in the 7th grade. After attending lessons, she made time to take practice tests and attend workshops nearly every weekend.
"I shifted toward taking practice tests and going to workshops because I felt those were the best ways to apply the concepts you were learning in class," Blaine says.
Blaine took more than 20 practice tests throughout her five years at KD College Prep. She says the combination of attending test prep activities and learning advanced concepts in school helped her raise her score significantly.
"I think the repetition and being able to practice in a non-stressful environment while also simulating that testing experience is something that was very beneficial for me," Blaine says.
Finding Her Voice
When it was time to start on her college essays, Blaine was very stressed and wasn't sure how to start.
"I know for a lot of kids, it's hard to articulate who you are through 250-300 words. It was definitely a struggle I had, and I think that college counseling just helped me so much with finding a way to do that well enough. I'm pretty sure that is what got me into Stanford, if I had to say it was one thing," Blaine says.
After working with the college counseling team, Blaine was able to find her voice and tell her story in a compelling way.
"When I got to college counseling and I met Mr. Steve, he was super patient and honest about the work I was submitting to him. I think he helped me a lot, and not just grammatically," Blaine says.
A Dream Come True
"I have no less than two Stanford University sweatshirts, a hat, a night light, a mask, and a blanket. My mom went a little crazy for Christmas," she says.
But Blaine's Stanford acceptance was just the first letter to arrive. She also received acceptances from several other top-tier colleges, including Yale University, the University of Pennsylvania, Columbia University in New York, the University of Southern California, Carnegie Mellon University, and many others.
Blaine has several outstanding options to choose from, and she'll be narrowing it down to her final college decision over the next few weeks.
Now that college applications are out of the way, Blaine plans to finish up a project for her non-profit, take time to learn more about herself, and enjoy time spent with family.