For high school students, life is often a juggling act. Many students have strict schedules consisting of schoolwork, extracurriculars, part-time jobs, and social events. Adding test prep into the mix is not always an easy task.
Time management is key. For this reason, many of our families over the years have asked for test prep activities that students can do from home.
Initially, the technology just wasn't ready for the in-depth and personalized programs we offer. We would never launch an online program unless we thought it was an outstanding platform that proved to be effective for our students.
Now, for the first time since opening our doors in 1992, we are able to provide our exceptional test prep courses for the SAT®, ACT®, and PSAT tests to students everywhere with our live online lessons and on-demand activities.
In this blog, we'll explain the components of our online test prep programs and how we differ from online instruction that you may have experienced before.
What type of online test prep do you offer?
Our online test prep courses are designed to prepare students for the SAT, ACT, and PSAT tests. For students looking to sign up for online test prep, we offer two program options:
The On-Demand Core Program
The Complete Program with Live Online Lessons
The On-Demand Core Program
The On-Demand Core Program is a six-month, self-paced test prep program designed for students who plan to prepare for the tests through pre-recorded video instruction. All activities are taught by expert instructors in the on-demand format. The program consists of about 120 hours of instructor-led videos and student activities. There are no live online activities included in the On-Demand Core Program.
Learn more about the On-Demand Core Program.
The Complete Program with Live Online Lessons
The Complete Program is our premier test prep program designed for students in 9th-12th grade. This program consists of live online or in-person instruction and practice activities and students can receive unique sets of curriculum at each grade level as they move through high school. Students pay a one-time fee for access to the program until high school graduation or until needed scores are achieved.
Learn more about the Complete Program.
Online Program Comparison
Compare Our Online Test Prep Programs.
What is the difference between On-Demand and Live Online Activities?
The main difference between on-demand and live online test prep activities is that on-demand is pre-recorded content while live online activities take place in a real-time, virtual classroom environment.
Think of "on-demand" as being an online streaming service like Netflix. You can watch a test review at any time because it is pre-recorded content. This means you can prep for the SAT test at 3 a.m. if you want. The content is there whenever you need it, and it's ideal for students who need this kind of flexibility or extra practice.
A "live online" activity is more like a live theater performance. There is a designated start time, and if you're late, you might miss something. The performers can also interact with the audience and vice versa. This option is ideal for students who need to follow a schedule or will benefit from the ability to ask questions and get immediate answers from instructors.
How Does KD College Prep Compare to Other Online Test Prep Programs?
KD College Prep strives to be one of the best test prep programs available. From our experienced teachers to our proprietary curriculum, you'll find that every component of our program is carefully vetted to ensure its effectiveness.
More Than 27 Years Experience
KD College Prep was founded in 1992 by Karen and David Dillard. Over the years, we have grown to five campuses across the Dallas-Fort Worth metroplex and have served more than 65,000 families. We've recently expanded to serve students around the world through our online programs.
Our Proven Approach
We have an experienced team of curriculum writers who demonstrate an exceptional knowledge of the material found on the SAT, ACT, and PSAT tests. Our curriculum content evolves every year to match changes that occur in the actual tests.
Our goal is to help students obtain the test scores they need to get into their dream college. We focus on progress, not perfection. Read on to learn about each component of our program.
Lessons
Lessons (or classes) provide a core foundation for the material found on college admissions tests. Each student starts by attending a set of 14 lessons, six focusing on verbal concepts and six focusing on the math skills, plus a diagnostic test and final lesson.
Homework Activities
Each lesson comes with a homework activity, encouraging students to practice what they have learned throughout the lesson. We always provide explanations for the homework activities to help students master challenging concepts.
Vocabulary Units
Vocabulary is an important component of test material that often goes overlooked. Mastering complicated words can drastically improve how a student performs on the verbal sections of the tests. Each student gains access to a vocabulary workbook that includes a vast library of vocabulary content found on the tests.
Workshops
Workshops are instructor-led practice sessions on the tests' most challenging concepts. Through workshops, students are able to enhance their skills and find additional help with the questions they struggle with most. Workshops may consist of timed practice, short quizzes, or other practice activities.
Practice Tests with Reviews
Practice tests allow students to put it all together and practice what they've learned. Practice tests help students get comfortable with the format of the test, estimate their progress, and build mental endurance for when they take the official national tests.
After students complete a practice test, they receive a score analysis to give a clear picture of how they performed.
Each practice test is followed by an instructor-led review. During these reviews, teachers work through the questions and help students understand why they missed certain questions.
Our Results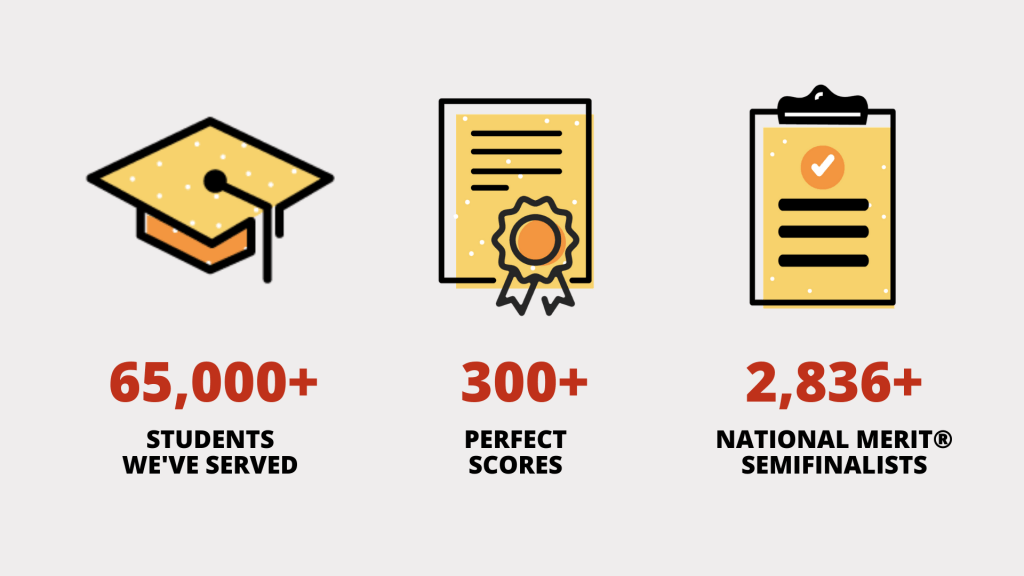 How does the KD College Prep online experience compare to other online learning programs?
We know that your student's experience with other online classes may have been challenging. In some cases, teachers had to quickly adapt to an online learning environment. We commend the school districts, administrators, teachers, parents, and students for their flexibility and determination during the COVID-19 crisis. Even with the best of intentions, some students reported technical difficulties and problematic learning environments.
However, this is not what you'll get with KD College Prep's online test prep courses.
We have spent months creating an online portal that is easy for students to use. Our teaching directors have recorded more than 120 hours of lessons, workshops, homework explanations, and practice test reviews that students can access from anywhere at any time. We have also created live online lessons where students can receive real-time instruction from our experienced teachers.
Our teachers are observed regularly and receive constructive feedback to ensure that they are conducting themselves in a professional and engaging manner. All of our teachers go through a rigorous vetting process during which they are required to demonstrate their teaching capabilities and knowledge of test material. We only hire the best and most qualified teachers.
We also have a tech support team that is available to answer any questions your student may have when trying to log in to a class or access content in the portal.
Will online test prep replace in-person test prep activities?
We know that for many students the in-person classroom environment is irreplaceable. They need the consistency of attending classes in person in order to excel. Many students benefit from having a teacher at the front of the room who can answer their questions or react to their specific situation. While our online classes allow for interaction, in-person instruction certainly has its benefits.
We plan to resume in-person activities at our campuses on June 29th. However, the transition will involve precautionary steps such as limiting class sizes, requiring masks, and maintaining social distancing. For a short time, workshops will remain available only through live online classes and on-demand content.
But remember, our online test prep programs are here to stay! Once our lives return to a new normal, we will continue to offer on-demand and live online options for students everywhere. Our online programs offer our students a safe space in which to adapt to remote learning which they will likely face at one point or another in their educational journey.
Interested in signing up?
We are here to answer any additional questions you may have about our online test prep options. Contact us to schedule your consultation or to learn how to get started.