It's June 2021, and Kate gets the call she's quietly anticipated all month. It's the head coach for the Claremont-Mudd-Scripps (CMS) women's tennis team, and he has good news.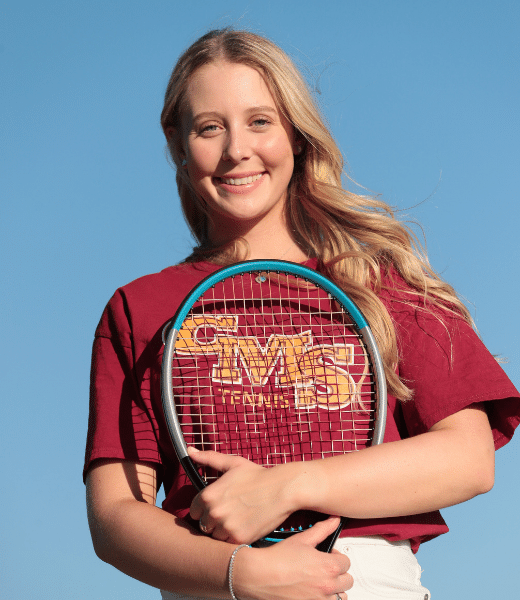 "Oddly enough, CMS was my first and only offer because I literally accepted it in a day. I snatched up [the offer] because Claremont McKenna is my dream school," Kate says.
Kate is a senior at Christ Academy in Wichita Falls, TX. She's a five-time tennis champion at the Texas Association of Private and Parochial Schools (TAPPS) 1-A level with a dream of playing competitively on a team at a liberal arts college. And soon, this dream will finally become a reality.
The Swing of Things
"I would definitely say that my biggest extracurricular throughout my life has been tennis," Kate says.
When Kate was younger, her parents signed her up for almost every sport available to her. She played soccer, basketball, gymnastics, dancing, swimming, and tennis. She soon learned that she felt most at home on the tennis court.
"The choice was ultimately mine, and I decided that tennis was the best sport for me because it highlighted my strengths as an athlete. And I've just loved doing it ever since," Kate says.
Kate thrives on competition and likes to feel in control on the court. She said she loves that tennis keeps her thinking on her feet.
"It's like playing chess. You have to analyze your opponent's moves and figure out what they're going to do next while still thinking about, 'What am I going to do next? How am I going to win this?' That problem-solving side is one of my favorite reasons for loving tennis," Kate says.
When she's not grinding it out on the court or volunteering at local vet clinics and animal shelters, Kate loves to knit. She describes herself as a "rainbow loom kid," and she's made anything from socks to scarves to sweaters for her dog.
"I definitely would say that I am a crafty person," Kate says.
One of her all-time favorite knitting projects was inspired by a colorful, patchwork cardigan worn by Harry Styles on The Today Show. Kate didn't have an extra $2,000 lying around to splurge on the actual designer piece, so she decided to make it herself.
"It has green, blue, black, yellow, red… It's crazy-looking, but it was fun to make," Kate says.
Preparing for Athletic Admissions
Kate first learned about KD College Prep from one of her friends. Her parents signed her up in 9th grade, and she appreciated the structure the program added to the process of preparing for tests.
"I am very much a Type A person, and I feel like KD gave me all the resources that I love… Being able to be organized and have all these resources that are available to you—all of that has been invaluable to me, and I utilized almost every resource," Kate says.
In addition to attending test prep activities, Kate worked with KD's college counseling team to perfect her college application essays. She worked one-on-one with college counselors to craft an essay that added a personal touch to her college application.
"I like to think that I'm a pretty good writer, but they helped me take solid writing and make it into great writing," Kate says.
KD's college essay assistance goes beyond general editing. KD's college counselors met with Kate to brainstorm topic ideas and find something that really showed who she was as a person and why she belonged at Claremont McKenna.
"They're there to help you with your grammar, word choice, and the black-and-white side of writing. But some of the ideas that they gave me while writing that essay definitely took it to the next level," Kate says.
Kate planned ahead and wrote her essay during the spring of her junior year of high school, and she submitted her application for a pre-read right after she visited Claremont McKenna in May 2021. By June, the college offered her a spot on their team.
"I think having a strong essay is probably one of the best ways you can help yourself get into a college," Kate says.
When asked about her advice to younger KD students, Kate says, "Be a sponge. Absorb as much information as you can. And practice. Those practice tests are so invaluable. You need to be doing those way more than you think you do… And have fun. You should be enjoying your time, but still focus, still have drive, and still have grit."
California Dreaming
"When I visited Claremont McKenna, I got a completely different vibe than what I'd gotten at some of the other schools that I had visited… Everybody there seemed genuinely happy to be there. The sense of collaboration that I could feel as a visitor was just insane. It checked all the boxes for me—the location too. No one can complain about going to school in southern California," Kate says.
Kate stayed in touch with the CMS head tennis coach throughout the entire recruiting process. When she visited the campus in spring of 2021, there were no students on campus due to the pandemic. To her surprise, the head tennis coach stepped up and gave her a personal tour throughout the entire campus.
"That seemed rare almost," Kate says. "He went above and beyond what other coaches had done previously. And I thought, wow—if he's willing to do this for someone who is only a recruit, imagine how far he'll be willing to go for you when you're actually on his team," Kate says.
Down the Line
Kate dreams of pursuing med school after receiving her bachelor's. While she's still weighing all her options, she's particularly interested in becoming a dermatologist.
"I've spent a lot of time in a dermatologist's office," Kate says. "As someone who has experienced the patient side of it—the way that [my doctor] made me feel and the way that she's been able to help me—it's kind of changed my life. That's something that I think is so cool about dermatology—you have that power to help someone."
Early on in her admissions journey, Kate knew that she wanted to go to a small liberal arts college. Although she's always enjoyed her science classes, she wants t develop skills in other areas as well.
"I am leaning toward classical studies. It is a great major for developing problem-solving skills, critical thinking, and a really strong liberal arts background in different subject matters. That's a great degree [that will help me] leverage myself in graduate studies and future career paths," Kate says.
Now that college applications are out of the way, Kate can't wait to get back on the tennis court for her senior season. She plans to enjoy precious time with friends and family before she heads to California this fall.