The COVID-19 virus has brought some major changes to the way we live our lives. But few of us carry the same burden as the healthcare workers in our community.
"They're risking their lives for us every day, and I think it is important to honor them for that," says Naisha G., a KD student who attends Coppell High School.
In the wake of the COVID-19 pandemic, Naisha decided to step up and make a difference in her community. In May, she started developing a nonprofit that provides meals and personal protective equipment (PPE) to healthcare workers at hospitals throughout the Dallas-Fort Worth area.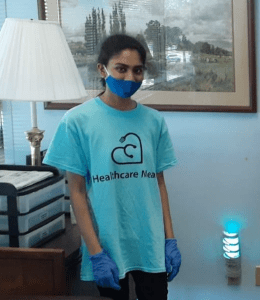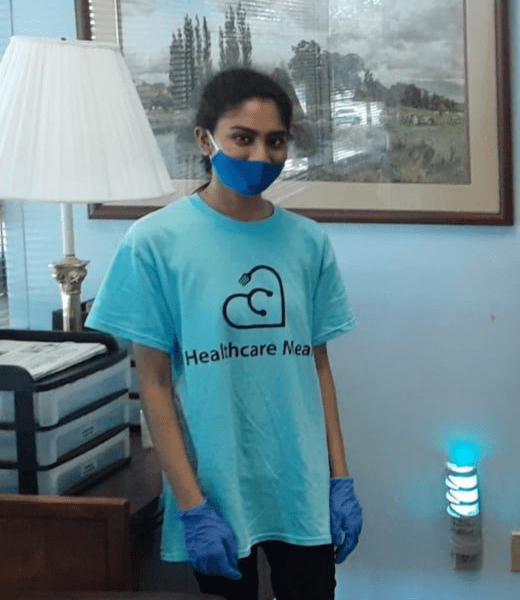 A Family Matter
Naisha witnessed first-hand the stress and fear experienced by healthcare workers on the frontlines. Her sister, a healthcare worker, started distancing herself from the family in order to protect those she loved. They are very close, so Naisha started looking for ways to help cheer her up.
"I saw how tired she was and how different our interactions were when the pandemic started because she was so busy," Naisha says. "I wanted to do something for her and other healthcare workers like her."
At first, Naisha wasn't sure exactly how she could help. She remembers finding some motivation after reading newspaper articles about hotels that provided free rooms and meals to healthcare workers who were afraid to go home to their families.
"There was a lot of brainstorming involved," Naisha says.
Naisha started baking cookies to show her appreciation for healthcare workers. That's when she got the idea to do something bigger.
Building a Nonprofit
After the lightbulb turned on, it took some time to set things in motion. Naisha started contacting hospitals and restaurants. In the beginning, it was a challenge to get into contact with the right people at each hospital.
"I did finally manage to contact them, and after we started sending meals on a weekly basis, they were really grateful and wanted us to know how much they appreciated it," Naisha says.
Naisha came up with a name and logo for her organization. She then built a website (with some help) and set up social media channels to help spread awareness about her mission.
"We were able to raise thousands of dollars from donors, and we now have corporate sponsors who support this mission," Naisha says.
There was a lot of planning involved, like filing paperwork for 501(c)(3) status and constantly communicating with restaurants and hospitals.
Many people have shown support for the mission in a variety of ways, but it wasn't until recently that Naisha hired her first volunteer.
"I'm so excited to have our first volunteer. She is great. We just hope to add more people who are as passionate about this as we are," Naisha says.
Making an Impact
In just a few short months, Healthcare Meals Inc. has provided hundreds of meals and 900 face shields for employees at five hospitals in the DFW metroplex: Parkland Memorial Hospital, Children's Health, Methodist Dallas Medical Center, William P. Clements Jr. University Hospital, and John Peter Smith Hospital.
Naisha experienced a pivotal moment when she received handwritten letters from some of the healthcare workers.
"[The hospitals] started sending letters of appreciation from the healthcare workers. It was honestly really wonderful, and we feel like we are making an impact," Naisha says.
The experience of founding Healthcare Meals Inc. has also helped Naisha grow as a person. She's a rising senior who plans to attend college in the near future, but she hopes she never forgets the lessons learned over the past few months.
"I hope that this adds to my college life in the sense that I never really forget this lesson that no matter what I do in life, I always try to help my community," she said.
Furthering the Mission
Naisha hopes her story will help motivate other high school students like her to do something to give back.
"Our first goal with this mission is to inspire people to do something to help out in their community during these pandemic times," Naisha said. "It could be joining an organization as a volunteer, or it could be something that they start on their own."
Healthcare Meals Inc. hopes to grow its volunteer base so that it can support more hospitals. Naisha is currently working on setting up partnerships with more hospitals in the DFW area, and she hopes the organization grows to serve hospitals in other cities as well.
Next Steps
Volunteering can help students build relationships, discover career opportunities, and provide hands-on experience. To get started, contact Healthcare Meals Inc. or read about why volunteering matters.