Paying for college is no easy feat. In fact, some parents start thinking about college savings as soon as their child is born. Fortunately, you might not need to put up tens of thousands for a degree all by yourself. With the National Merit® Scholarship, your child has the potential to score substantial funding for school, both through the National Merit Scholarship Corporation and from participating colleges and companies.
One common misconception is that all National Merit Scholars are academic whiz kids who started doing calculus at the age of seven. While it does take hard work to become a Semifinalist or Commended student, this status isn't solely reserved for geniuses. In fact, it's more attainable than you might think—provided your child is willing to put in the work. Test prep programs can help, as well.
Navigation through this article:
National Merit Scholarship Explained
Taking a Look at the National Merit Scholarship Program
The National Merit Scholarship Program is a renowned, nonprofit, merit-based scholarship program. Since its establishment in 1955, its aims have been to recognize high-achieving students and support their higher education. The program has delivered more than $1.8 billion in scholarship awards in its history.
That's a whole lot of dough for college, and your child doesn't need to jump through hoops to apply for it. There are no community service requirements to meet or self-reflective essays to write. In fact, your child could be automatically entered into the competition (see below).
About 7,500 high school juniors around the country will receive a National Merit Scholarship each year worth $2,500. What's more, the National Merit Scholarship Program opens the door to the potential for additional awards offered by colleges and businesses. These vary in amounts.
How Your Child Can Become Eligible for the National Merit Scholarship
Your child doesn't need to fill out any special application package for initial consideration for the National Merit Scholarship. Every student who takes a particular test will automatically be entered into the competition. (An application is required of Semifinalists.) The PSAT test is available to students in 9th through 12th grade. However, only the 11th grade test provides a gateway for National Merit Scholarship consideration. This is the PSAT/NMSQT® (Preliminary SAT/National Merit Scholarship Qualifying Test).
The PSAT/NMSQT test takes just over two hours to complete. There are two main sections:
Reading and writing – 54 questions/tasks
Math – 44 questions/tasks
Students are allowed to use a calculator on the math section. Your child may use the calculator that is embedded on the testing platform or bring one from home (provided it's on the list of approved calculators). We recommend bringing an approved calculator from home because students may not be familiar with the embedded calculator. It can take valuable testing time to figure out how to use it.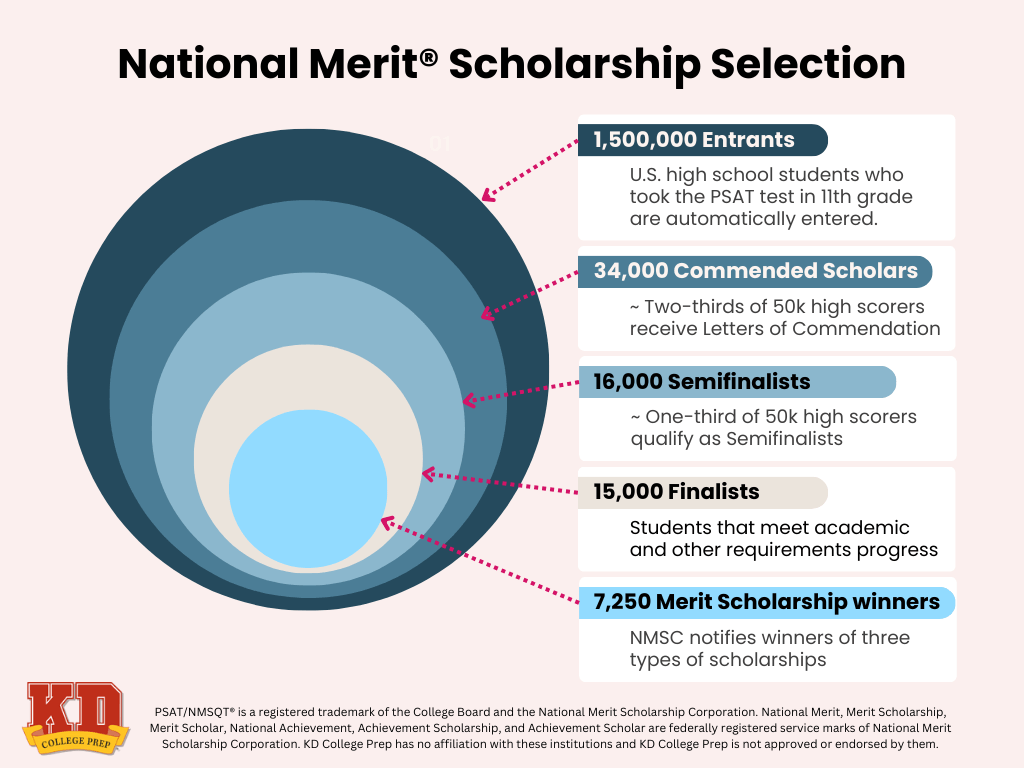 PSAT/NMSQT Score Calculations
It can be a little nerve-wracking for parents and students both to wait for the scores to become available after the test day. It will generally take four to six weeks for scores to become available online. Your student can access them online through his or her College Board account or the BigFuture School mobile app (there is an opt-in for the app on test day). Alternatively, students can receive their score reports from their school.
So, how are the scores calculated? Every correct answer receives one point. This is the "raw score." The raw score is then converted into a scaled score, which can be anywhere from 160 to 760 per section. The scaled scores are then combined into a composite score. A perfect composite score on the PSAT/NMSQT is 1520. (Not to worry! Your child doesn't need to receive a perfect score to be eligible for a scholarship.)
On the second part of the score report, you'll see the National Merit Scholarship Corporation (NMSC) Selection Index score. This can range between 48 and 228. The Selection Index will determine National Merit Scholarship eligibility. However, there is no universal cutoff score. Rather, the cutoff score depends on location. In order to be a Semifinalist, your student will need to score within the top 0.5% of students in your state. Those who score below this point, but still within the top few percentage points will be Commended students.
The cutoff point can vary from year to year within any given state, since it depends on how well students in that state score collectively. In some states, a student may become a Semifinalist with a 207 Selection Index score, while those in other states will need 220 or higher.
Helping Your Child Do Well on the PSAT Test
College is quite expensive, and the last thing your child needs is to graduate with tens of thousands in student loans. You can help your student increase their chances of obtaining National Merit Scholarship funds by:
Discussing with your student the importance of doing well on the test and what it could mean for them financially (to provide motivation)
Planning for the test well in advance of the October test date, such as by developing a study plan during the summer before junior year
Actively helping your child study, such as by quizzing them
Investing in extra test prep resources
Let's take a closer look at preparing for the PSAT test.
Quick Tips for Preparing for PSAT Test
1. Strengthening Math Skills
The math portion of the test emphasizes algebra and geometry. Since the test is timed, it's ideal for your student to prioritize the easy and moderate questions first, and then go back and tackle the difficult questions if time allows. If they get stumped on a question, they may be able to plug in variables that are given as answers to see which one works. There is no penalty for wrong answers, so if all else fails, making an educated guess is better than not answering a question at all.
Practice makes better, and we strongly recommend that students take multiple practice tests. It's also a good idea for students to work without a calculator as much as possible in order to memorize simple calculations. Another effective study strategy for math is for your child to teach you how to solve a particular problem. Teaching reinforces learning and enhances memory retention.
2. Improving Verbal Skills
If your child is already an avid reader, then they'll already have a much better chance of doing well on the reading and writing portion of the PSAT/NMSQT. Daily reading is an excellent way to build vocabulary, enhance comprehension of words and phrases in their proper context, and develop grammar and sentence construction skills. Plus, it's fun!
If your child would rather do anything but read, then you've got a bit of a challenge on your hands. Try to turn reading into a fun family activity. Get into the habit of having family reading time a couple of times per week. Prepare your child's favorite snacks, turn off the smartphones, and perhaps even invest in a couple of bean bags to create a cozy reading space.
You might also consider allowing your student to write in books that you've purchased. Circling unfamiliar words and looking them up is a great way to build vocabulary. Analyzing the author's intent—identifying themes and repeated motifs or even dialoguing with the author in the margin notes (i.e., "Melville, what were you thinking?? 20 pages about blubber?") — can provide lively ways of interacting with the text and building analytical skills.
3. Taking Practice Tests
For both the math and verbal sections, taking practice tests is a great idea. We recommend taking a practice test at the beginning of your child's test prep schedule to establish a baseline. Your student can identify problem areas and work on improving them. Free practice tests are available online.
4. Investing in Extra Prep Resources
Just as college is an investment in your child's future, prep programs for the PSAT test are an investment in your child's college education. If it's feasible for your family, spending some money on extra prep resources may make the difference between thousands in National Merit Scholarship money and a non-qualifying Selection Index score.
KD College Prep offers a variety of test prep programs, including online and in-person programs.
Congrats! Your Kid Is a Semifinalist! Now What?
If your child has been named a Semifinalist, it's definitely cause for celebration. However, the work isn't quite over yet. Here's a look at what's next.
The Next Steps in the Competition
Semifinalists aren't simply handed a check automatically. Your child will need to follow the instructions handed out by the National Merit Scholarship Program to try to advance to Finalist status. From the pool of Finalists, the organization will select National Merit Scholars. (About half of all Finalists will win a scholarship.)
First, your child will need to fill out and submit the National Merit Scholarship application. The application includes portions that the school must fill out. A school official must also provide a recommendation.
Then, they'll need to submit their SAT® or ACT® scores (or sign up to take those tests). Pay careful attention to the deadline for score submission.
Additional Scholarship Opportunities
National Merit Scholars are not only eligible for the $2,500 National Merit scholarships, but they may qualify to pursue corporate-sponsored and college-sponsored Merit Scholarship awards. The list of scholarship sponsors is updated each year and is available in the PSAT Student Guide on the National Merit website. Your child will need to scrutinize this list to identify scholarship opportunities they may qualify for, and fill out applications accordingly.
Your Child Missed the Semifinalist Cutoff Score. Not to Worry!
If your child discovers that they have missed the Semifinalist cutoff score, it can be disappointing. However, it's not the end of the world. There are still plenty of opportunities out there. Spend some time reassuring your student and building up some self-confidence, and then encourage him or her to get to work sorting through databases of other scholarship opportunities. Some of these include:
 For more tips for ways to help pay for college, check out our scholarship guide.
Which colleges offer National Merit scholarships?
There are many colleges that offer scholarships for National Merit Finalists. Some schools will also make offers to Semifinalists. Even if your student didn't make the cutoff score, they may still be able to obtain a non-National Merit college-sponsored scholarship. When in doubt, it's best to check the college's website for more information.
Are there benefits to National Merit status beyond the scholarship?
The scholarship money is the most obvious benefit of obtaining that much-coveted Finalist status. However, it may also increase the chances of gaining admission to an elite school. Plus, becoming a Finalist, Semifinalist, or Commended student is an achievement in itself that your child can brag about on their resume.
Is the National Merit Scholarship renewable?
There are different types of scholarships available for the National Merit Scholars who are selected from the batch of Finalists each year. The $2,500 National Merit Scholarship is not renewable. They are one-time awards given by state. Some corporate-sponsored Merit Scholarship Awards are indeed renewable for all four years of your child's higher education, while others are one-time awards.
Lastly, the college-sponsored Merit Scholarship Awards are renewable for up to four years. However, your child must be accepted for admission at that particular school, and they must inform the National Merit Scholarship Corporation that the school is their first choice.
Is the scholarship a full ride?
It depends! Some colleges do offer full-tuition or full-ride scholarships to National Merit Finalists. Some of those schools may only offer those scholarships to in-state students. Again, to be sure, check the college's website.
How will I know if my child is a National Merit Semifinalist?
It can be tough to wait on the news, and unfortunately, you and your student have a long time to wait. Although your child will take the test in October, the Selection Index score won't be available until September of the following year. Schools will also notify Semifinalists in September. If you've homeschooled your child, you'll be notified at your home address.
If your child advances to Finalist status, they'll be notified via mail delivered to their home address in early February. They could also find the notification via the account used to submit the Online Scholarship Application.
What score do you need for a National Merit?
There is no universal score that qualifies a student for a National Merit Scholarship. Rather, the organization selects the top-performing students from each state. Students in one state may need a higher score than those elsewhere to qualify. Because students are selected in this manner, the qualifying cutoff score can vary from year to year for any given state.
Need help preparing for college?
At KD College Prep, it's our mission to help students achieve their academic goals and conquer the college admissions process. We provide comprehensive test prep programs, both in-person and online, as well as college counseling services. Get in touch today for a free consultation with a member of our team!