"In the end, I just had to remember that the person I play best is myself," Tiffney says when asked about her college admissions journey.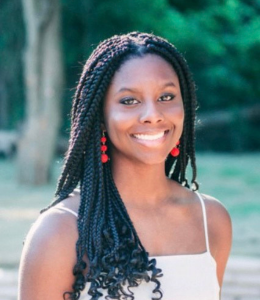 Tiffney is an Allen High School student with a resume that any college would adore. She is a blogger, cheerleader, National African-American Recognition Scholar, National Merit® Commended Scholar, four-time All American Athlete, AP Scholar with honor, winner of a Congressional Award, and soon-to-be published author.
Tiffney's college dreams came true when she learned that she had been accepted to her top choice, Brown University.
"I was really grateful that all my hard work and sacrifice had finally paid off," Tiffney says. "I took advantage of the resources my school has to offer and took mostly AP/ IB classes."
Mind Over Matter
Tiffney started cheerleading when she was seven years old. She served as cheer captain on her JV team and is now on the varsity team at Allen High School.
"Most people don't know how hard cheerleading is unless they have tried it. You have to hold people over your head for extended periods of time, lift your body, tumble in synchrony, dance, and do all kinds of things that require you to build strength. It teaches you perseverance and mind over matter. Your body will be tired, but you have to keep going, no matter what," she says.
Outside of school, Tiffney also cheered competitively at Cheer Athletics. This was a huge commitment for her, as she often invests about 11 hours of practice every week, in addition to high school games. She also helped coach the special needs team at her gym.
Cheerleading has played an important role in Tiffney's life, but it is only one of the many hats she wears. Other passions include playing the viola and piano, studying French, and learning TikTok dances with her sister. Her Christian faith also plays a central role in her life, and she served as the vice president of D.O.L.L.S, a faith-based organization at her school.
Tiffney has been heavily involved in her school and the community throughout her high school years, and these activities and her coursework have helped guide her toward finding potential career paths.
"Above all, I'm intrigued by psychology," she says.
Finding the "Sun Space"
Tiffney's teenage years included some tragic experiences that have shaped her journey. One was losing a friend to suicide during her freshman year of high school, and she struggled to understand why.
"I did a lot of research and found that most mental illnesses start in early adolescence," she says.
Through the lens of loss, Tiffney discovered an interest in studying mental health. She decided to explore this area by taking AP Psychology.
"That class is the best class I've taken during my entire high school career. It kind of gives us an explanation for the way people behave and why we think the way we do," she says.
The pain of losing a friend changed how Tiffney thought about stress and depression. She wrote a book called One Step Closer to help spread awareness about depression and its symptoms to children and adolescents. She hopes her work prevents outcomes like suicide so that others do not experience the same loss that she did.
At the start of the pandemic, Tiffney started a blog called The Sun Space. Here she spreads positivity and acts as a cheerleader for other students who may be experiencing stress and anxiety during these uncertain times.
"The goal of The Sun Space is to uplift and support you in different spheres of life. My messages are made to encourage you to keep going and fulfill your potential," she writes on the blog's About page.
Progress Over Perfection
Tiffney first learned about KD College Prep through her older brother, who was also a KD student. She signed up for the Complete™ Program in 10th grade, and over time, she was able to raise her score by more than 300 points between her PSAT and SAT tests.
"I enjoyed my experience at KD. At first it was difficult, and I wasn't sure if I'd make big improvements. But once I started consistently putting the work in, I saw a difference," she says.
Through her PSAT scores, Tiffney was selected as a National African-American Recognition Scholar and a National Merit® Commended Scholar. Tiffney's PSAT score was in the top 1% nationally and top 3% for Texas.
When asked what advice she'd give to younger students, Tiffney recommends that students work hard to make the most of the resources at KD, and avoid becoming discouraged by low or unchanging scores. "It takes not only dedication, but also, perseverance," she says.
As for college applications, Tiffney advises that students remain authentic throughout the process.
"Be yourself because colleges are not looking for perfect people," Tiffney says. "Use your scores and your life experiences to tell a compelling story."
Ivy League Bound
"I was so shocked. I remember that I had to reread my screen a few times before it sunk in…My mom was screaming for a good 15 minutes," Tiffney says as she remembers the first few moments after learning she had been accepted to Brown.
Tiffney can't wait to explore career paths and expand her horizons at Brown.
"I plan to study psychology, neuroscience, and explore medicine. But I'm also interested in economics and finance, so I'll be exploring that as well since Brown is known for its open curriculum," she says.
Now that applications are out of the way, Tiffney plans to spend time with her younger sibling and enjoy the Texas sunshine before she heads off to Rhode Island in the fall.