Narrowing down which colleges to apply to is a long and stressful process for some students. It's hard to decide which colleges feel like a fit, and many factors should contribute to that decision: location, degree options, cost, campus life, etc. While college websites can provide a lot of information, they don't always give clear answers to student questions or depict a full picture of what life will be like at that particular college. That's where college fairs come into play.
College fairs are events that showcase various colleges. Admissions officers or college representatives set up booths with signage and give out brochures and other informational resources to attendees. They talk with students, answer questions, and collect contact information. The events can feature colleges from a certain region, or they can include colleges from across the U.S.
In this guide, we explain the importance of college fairs and give some tips on what to do when attending.
Navigate through this article:
Why attend a college fair?
The goal of college admissions is to pair students with their best fit colleges, and these events help students become aware of the multitude of options out there. They also serve as an important step to learning about and demonstrating interest in a college and give students a strong overview when combined with campus visits or information sessions. Remember, the more information you have about a college, the easier it is to feel confident about where you apply. Plus, it serves as an opportunity to practice talking to admissions staff.
At KD College Prep, we know the value of attending college fairs, which is why we were excited to host our first fair on Nov. 2, 2023 with the DFW Admissions Regional Network (DARN). The event featured booths from 19 colleges, and 64 KD students and their families were in attendance.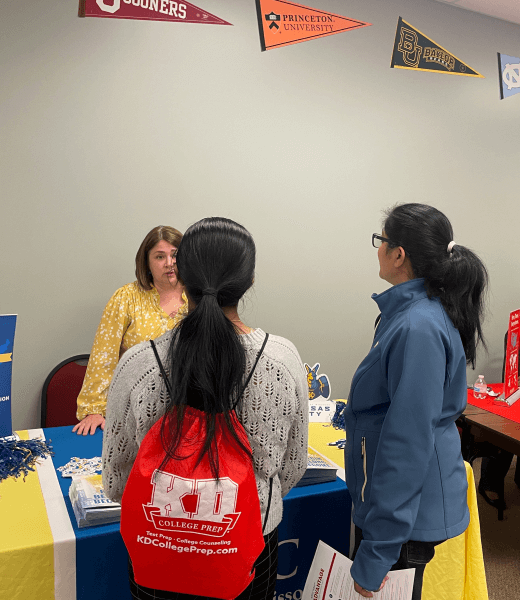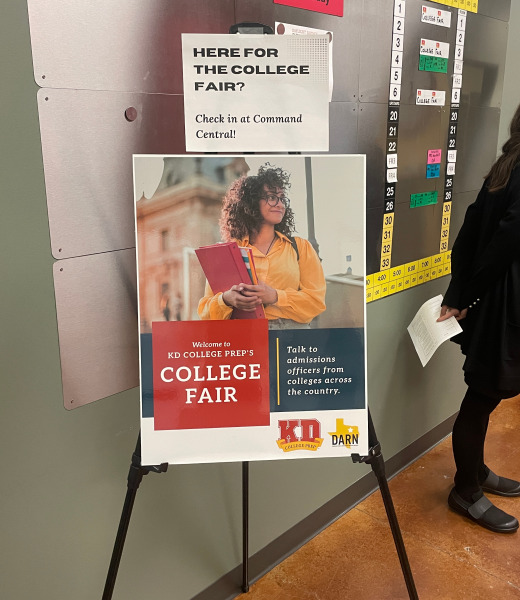 "It was a great opportunity for our students to get a deeper understanding of a variety of schools, including some that were to them less familiar hidden gems. We intentionally wanted our families to use our event to be better prepared for other college fairs and college visits. Being prepared with the right questions, being ready to present themselves well to college reps, and being alert for any information that could contribute to their ultimate college decisions can be game changers. It was a great event, and we've already begun planning our next college fair," said David Dillard, CEO of KD College Prep.
16 Things To Do At Your Next College Fair
Before the Fair
Find out which colleges will be there.
In the days leading up to the event, try and find out which colleges will be there, keeping in mind that you may see some last-minute additions. Sometimes that information is available on the organizer's website or event posting. Other times, you may have to wait until closer to the event date or contact the organizer.
If a list is available, review it and make note of a few college booths you want to visit. This is particularly helpful for large-scale college fairs that may feature more than 100 colleges. For smaller events or those where a list of attendees is not available, keep in mind that this is an opportunity to visit with colleges you may not have heard of and explore college options. Plus, you can always do a quick walkthrough at the beginning of the fair to see all the colleges in attendance.
Start thinking deeply about the type of college you want to attend.
When attending these events in 10th or 11th grade, you won't need to have a finalized list of colleges in mind. You should, however, have already started thinking about college and the type of school that will make you happy. You're still growing and your opinions about some things will change, but you may have already discovered a few things that are really important to you.
Attending this event will remind you that college is not that far off. It's likely that you'll be in a mindset that starts to explore important questions about your future. Keep track of these thoughts and realizations in a notebook or notes app on your phone so that you can come back to them when narrowing down your college list.
Have a list of questions ready.
As we noted in the previous point, this event is an excellent opportunity to start thinking about your ideal college. You'll want to come prepared with a list of questions that will help you paint a picture of what life will be like at a particular college.
Some Ideas of Questions to Ask:
What types of students thrive at your college?
What does the average class size look like?
What are the most popular majors at your college?
What is the local area like that surrounds the campus?
Do most students live on or off campus?
What are some popular student organizations?
What are some fun things to do around campus?
What can you tell me about (insert major)?
What is the academic workload like for (insert major)?
Does the college offer any helpful resources or support services for struggling students?
What is something unique about your college?
Is the college undergoing any new changes?
How do most students cover the cost of tuition?
How does this college compare to (insert college)?
Does your college offer merit-based scholarships?
What's the likelihood of finding a job on or near campus?
Does your college have any professional development or internship programs?
How do I sign up for further opportunities to learn about the college? (campus tours, info sessions, special events, etc.)
Types of Questions to Avoid:
Don't ask about your admissions chances.
Don't ask questions that you can easily look up on Google.
Don't only ask questions about prestige or rankings.
Invite your parents, but this is your event.
College fairs are an excellent opportunity for parents as well. The college admissions process often involves their input, so it's helpful for them to explore and learn about college options as well. And sometimes, it's best for them to hear about a college straight from the source. Ultimately, deciding where to apply will be up to you, but your parents may think of practical questions you didn't think of or provide a different perspective. But remember, you should be the one driving the conversation and asking the questions. After all, you will be the one going off to college.
Practice introducing yourself.
Part of the high school experience is learning how to put yourself out there. It all starts with knowing how to introduce yourself in a professional manner. One of the most valuable aspects of attending college fairs is that it gives you the opportunity to talk to admissions officers. Having a little practice may serve you well if you are invited to interviews later on in the admissions process.
Introducing yourself to a complete stranger may feel off at first, and it might help to practice in front of the mirror a few times before the event, especially if social interactions make you anxious.
Dress appropriately.
As a high school student, you may not realize how much your physical appearance plays into someone's opinion of you. If you show up in a t-shirt and sweatpants, it may come off that you're not really interested in being at the event. But if you show up dressed up in business casual attire, then it shows that you came to the event with a sense of purpose.
To clarify, don't show up in a tuxedo or formal dress. A nice shirt with a pair of slacks or mid-length skirt will do just fine.
Pack a small tote bag.
Colleges will give you lots of things to take with you, so stay organized by bringing a small tote bag with you to keep everything in one place. If you're a current student, use your red KD drawstring backpack to keep all your things in one place.
You'll also want to bring a few things with you:
A notepad and pen – Be prepared to take notes that you can refer back to later.
Contact information – You'll want to bring your contact information to give to colleges. One cool hack is to create sticker labels with your name, high school, grad year, email address, phone number, and program interests. Many colleges will have sheets for collecting student contact information, and this helps speed up the process of adding yours.
List of questions – We've already explained that it's helpful to have a list of questions on hand, especially if there's anything specific you want to learn about a college.
Eat something and keep yourself hydrated.
Sometimes high school life gets so busy that it's hard to remember to take care of yourself! This is especially true if the college fair takes place after a long day at school. If you take a moment to drink enough water and eat something before the event, you're more likely to appear energized and happy to attend.
During the Fair
Leave a good impression.
If you've followed our advice so far, you're showing up to the event dressed appropriately and with a few talking points in mind. Now, it's time to conduct yourself in a manner that will leave a lasting first impression.
Some advice for how to talk to admissions representatives:
Introduce yourself with confidence – Greet admissions staff with a joyful "hello", shake hands, tell them who you are, and don't forget to smile. As we noted above, practicing beforehand helps!
Make eye contact and speak clearly – The room is likely buzzing with conversation, so be sure to give the admissions rep your full attention. Don't be afraid to make eye contact and project your voice so they can hear you.
Take charge of your experience – Don't follow your friends around the whole time. Don't let your parents do the talking. This is your chance to show your maturity by taking control of your future plans.
Remember, this isn't an admissions interview – This is not the time or place to go over your college resume, GPA, test scores, etc. Save that information for your college applications.
Make it a conversation – You want to find answers to your questions, but don't make it a pop quiz for the college rep. Use your questions as a starting point, but also try to find connection with the information shared. Communicate your enthusiasm for the things that matter most to you.
Take a deep breath and be yourself – While it's important to put yourself out there, don't try to bend or reshape yourself too much to align with what a college wants in a candidate. At the end of the day, it's all about finding the right fit for you.
Be efficient with your time.
Try not to spend the whole time at the college fair at one booth. Other students will be waiting to speak with the same admissions officer. Be courteous (see below). Our recommendation is that students should spend no more than five minutes talking to a college rep. Come prepared with your top questions (like those recommended above). It's best to arrive at the start of the event to ensure that you have time to talk to all the colleges on your list.
Be courteous to others.
College fairs are sometimes crowded, so be patient and show politeness to others. Don't push or shove, keep the walkways clear, and don't make rude comments to rush others. Remember, your actions are also a reflection of who you are.
Collect information.
Each college will have printed resource materials such as brochures, info cards, college merch, etc. available for you to take with you. These can be invaluable when thinking about where to apply later on in your journey. Remember to take notes when talking to admissions reps. You'll want to keep track of anything interesting and write down any impressions you have about a college. And don't forget to ask for the college rep's business card or direct contact information.
Keep an open mind.
We know that college rankings and prestige are an important factor when deciding on where to go to college. But during a college fair, you have the chance to pull back the curtain and really dive into what makes a college a great fit for you. Don't be afraid to explore the event and try to find a hidden gem that you may not have heard about yet. There are many factors that go into finding the right fit, and having an open mind early on in the process will only help strengthen your satisfaction with a final decision.
After the Fair
Review the information collected.
Plan a time within a few days or weeks of the college fair to evaluate the information you collected. Were there any colleges that stood out to you? What colleges should you cross off your list? It's best to do this while the event is still fresh on your mind.
Send thank you emails.
It never hurts to thank the hardworking college rep that helped you during the event. Send an email that shows your appreciation for their time and highlights anything that they shared that you found particularly helpful.
Take advantage of additional opportunities.
After you've had time to review the colleges that appeal to you most, it's time to take advantage of any additional opportunities to learn more about what life will be like at a college. Planning college visits, scheduling information sessions, attending open houses, or following college social media accounts are all additional ways for you to continue learning about a college.
Need help applying for college?
At KD College Prep, our college counseling services help students explore college options and prepare for college applications. Schedule a free consultation to find a program that fits your needs.